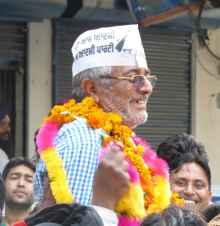 Aam Aadmi Party candidate Dharamvira Gandhi who defeated Union minister Preneet Kaur from Patiala on Saturday said growing anger against the ruling SAD on various fronts and disillusionment with Congress had gone in favour of the fledgling outfit.
Aam Aadmi Party, which emerged as a giant killer in Punjab, won four of the 13 Lok Sabha seats in the state.
"The Akalis came to power for the second time in a row in 2012 assembly polls. But it turned into the rule of mafia. The drug menace among youths also assumed alarming proportion," Gandhi, who defeated the three-time MP, said.
He said there was anger among the masses against the Akalis and they wanted to teach them a lesson.
"Secondly, Congress, a party with 48 members in the in the state assembly... did not show any seriousness to confront the Akalis in the assembly, neither they had the will nor the spirit to fight," he claimed.
Besides, Congress was plagued by infighting and had no time to think about people's problems, Gandhi said.
He said the Punjabis voted for AAP to give the party a chance as they were fed up with the mainstream parties.
When asked what was the clinching factor which went in his favour, he said, "I had a very tough fight. Preneet Kaur has a royal background, many people thought that I may cut her votes, but they had this perception that she will never be defeated."
"However, I knew the people's pulse, I had criss-crossed my constituency and visited nearly 800 villages and apprised the voters about my and my party's agenda," he said.
The AAP won Faridkot, Fatehgarh Sahib, Patiala and Sangrur Lok Sabha seats in Punjab.
Image: AAP's Patiala MP Dharamvira Gandhi
Photograph courtesy: Facebook