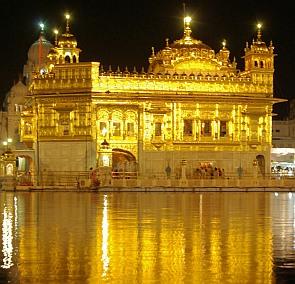 The paramount darbar in Amritsar is the Golden Temple, usually termed the "Darbar Sahib" by the thousands who flock to it for daily darshan. But in the colourful campaigning for one of the most closely-watched contests in the country, that between the Bharatiya Janata Party's Arun Jaitley and Amrinder Singh, Congress leader and former Punjab chief minister, several mini-darbars have sprung up.

Here's a look at some of the other darbars in the hard-to-please city, known for its appetite for food and drink and its insolent humour:

Darbar no.1
Stung by Amarinder Singh's sneering remark that Jaitley was an "outsider…just a pseudo-Punjabi…with pots of money", the 61-year-old BJP leader recently bought a smart house on Green Avenue for Rs 1 crore. At the griha pravesh, plangent singing from Sikh scriptures was followed by a havan to emphasise Sikh-Hindu harmony. About 64 per cent of the constituency's population of 1,200,000 is Sikh; Jat-Sikh farmers dominate its four rural Assembly constituencies, while Hindus, mostly traders, live in the other five.

The griha pravesh brimmed with relatives, friends and supporters, including santoor maestro Shiv Kumar Sharma and young Canadian MP Ruby Dhalla.

On his way to rallies in the border village of Attari, Jaitley admits it's a tough fight. He says after 14 years in the Rajya Sabha as an MP from Gujarat, he opted for Amritsar for his Lok Sabha debut because "emotionally, linguistically and culturally, I feel connected. My mother and sister were born here. My aunts, uncles, cousins all live here". His campaign in the city is "carefully structured" to meet people in groups - local associations, religious sects and students - to blunt the anti-incumbency against the Shiromani Akali Dal.

Chief Minister Parkash Singh Badal and his son and Deputy Chief Minister Sukhbir Singh Badal's continuing power subsidy to farmers, the primary factor behind the state's staggering Rs 69,000-crore debt, infuriates the urban population. It complains about power cuts, crumbling infrastructure and a new, vexing property tax.

To draw rural voters, Jaitley has to walk a tightrope between managing the strong anti-incumbency and relying on the SAD's Badal clan.

At the rally in Jethowal village, the rousing cheers aren't for Jaitley; these are for Bikram Singh Majithia, Punjab's revenue minister and brother of Harsimrat Kaur Badal (Bathinda MP and Sukhbir Singh Badal's wife). Bikram Singh Majithia is the Badal-Majithia clan's campaign star. Delivering sly broadsides in the rustic Majhi dialect, he says of Amarinder Singh: "Ik dhakka maro tey Lahore bhej deo (Give him one push and dispatch him to Lahore)," a veiled reference to the maharaja's long-publicised association with glamorous Pakistani journalist Aroosa Alam. Uproarious laughter erupts at his innuendos.

Darbar no.2
Ensconced in Nowshera House, a period garden bungalow on Court Road filled with Persian carpets and Chinese porcelain, the 72-year-old Amarinder Singh, popularly known as

"Captain Sahib", appears, moustaches freshly curled and waxed. Congress president Sonia Gandhi had personally intervened to insist he fight from Amritsar.

"Jaitley's a nonentity," he scoffs. "Make him stand in a village and people won't know who he is. Ask him why Sikh farmers are being evicted from Gujarat?"

He accuses the BJP of flooding the city with Rashtriya Swayamsevak Sangh workers and blames the Badal-Majithia family for Punjab's woes. "Bikram Singh Majithia is the kingpin of the drug trade," he says of the proliferating drug habit, a result of cross-border trafficking and chemical substances of local manufacture.

Asked if wife Preneet Kaur, Union minister of state for external affairs, is on course to a fourth win from Patiala, his eyes twinkle mischievously. "With one difference, of course. I'll get the bigger margin in Amritsar."

Darbar no. 3
After badgering him for two days, Bikram Singh Majithia personally picks me up in his sports utility vehicle for a late dinner at his house on Green Avenue, near Jaitley's new property. A tall 37-year-old, he has a quietly reflective manner, a sharp contrast to his fire-and-brimstone persona on stage. The dinner is plain, home-cooked Punjabi fare. "We're a strictly teetotal vegetarian family. How does that square up with Captain Sahib's image of me as Punjab's drug lord number one?"

He is keen on electoral math and political strategy, arguing Jaitley's win will ensure Punjab's presence at the high table in New Delhi. Asked why ex-cricketer and TV comic Navjot Singh Sidhu, the SAD-BJP Amritsar MP for three terms, was ousted, he says Sidhu became more interested in promoting his lucrative TV career. "His attendance in Parliament was 30 per cent. He hardly came to Amritsar. In 2009, he lost the city segments by 48,000 votes and won the seat with a margin of 6,700."

Majithia is in awe of his elder sister Harsimrat Kaur, whom he addresses as "behenji". "She prays and prays, two to three hours a day and several days a month. She is only devoted to her constituency, and to God. She hardly has time to visit my house."

Darbar no. 4
In a modest house in Joshi Colony, opposite Company Bagh, with little sign of any political activity, sits Daljit Singh, an 80-year-old eye surgeon and the Aam Aadmi Party's candidate. A pioneer in laser implants, he is a respected, saintly figure, owing to the thousands of free eye operations he carries out for the poor. "I had no interest in politics till I accidentally heard Arvind Kejriwal on TV. Friends and patients had been urging me to join. I am fighting against criminals and religious fundamentalists in public life." It's a lonely crusade but no political opponent dare speak against him. They agree he'll eat into their margins by 30,000-40,000 votes.

Darbar no. 5
Surjit Food Plaza on Lawrence Road is a darbar, earlier Surjit da dhaba, had humble origins, outside the railway station. A banner outside it reads, "The best eating joint in Punjab, recommend by Lonely Planet." Sukhvinder Singh, earlier a chef in London, dispenses delicious food and one-liners. "Badi tight fight hai, sir. But when you come back, we'll be fighting fit and fine."