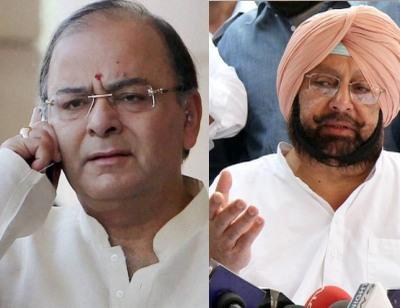 The Amritsar Lok Sabha battle is getting more and more personal. Congress candidate and former Chief Minister Amarinder Singh says merely being a Punjabi does not give his Bharatiya Janata Party rival Arun Jaitley the right to contest from Amritsar and he does not know anything about the place.
In the gruelling battle against the 61-year-old eminent lawyer from Delhi, Singh has also made 'Operation Bluestar' to flush out Sikh militants from the Golden Temple in 1984 a hot button issue blaming BJP and Akali Dal for it.

The 72-year-old Congress veteran rejects Jaitley's claim that he himself is an 'outsider' from Patiala and says Jaitley does not know anything about Amritsar.
"He may be Punjabi. But there are Punjabis living in Australia, New Zealand, the US and Britain. We welcome them all. They are all part of us. But does that give Mr Jaitley give the right to come and fight in Punjab and fight in Amritsar where he does not know the first thing about Amritsar. I don't know if he knows Punjabi," Singh told PTI in an interview
Unfazed by the national image of his rival, who is said to be destined for bigger things if the NDA comes to power, Singh dismisses Jaitley's description of him as an outsider to Amritsar.

"I am not an outsider. I come very much from Punjab and I must have been to Amritsar about 500 times in the last 47 years of my politics. And based on that and my love for city I got this 25-year plan made for Amritsar (as CM)," he told PTI in an interview.
Singh also waded into politics of BJP by praising Navjot Singh Sidhu, the party MP who represents Amritsar and denied ticket this time.
He describes him as one who tried to get projects for the city but was frustrated by the Akali Dal's government's refusal to give him funds.
"They (Akali Dal-BJP government in Punjab) wouldn't give him one rupee to develop the city. So naturally he got fed up," he said.

During the campaign, the two rival candidates have traded a lot of barbs on the 1984 Operation to flush out Sikh militants from GoldenTemple.
Jaitley had even asked why Singh remained in the party which has committed large number of improprieties and atrocities against the Sikhs. "He can't distance himself from that," he had said.

"His (Jaitley's) party is as much responsible for the Operation. In his book, L K Advani has written absolutely clear that they went and put pressure on Indira Gandhi to do this. And similarly Parkash Singh Badal had gone and said Yes," says Singh seeking to turn the tables on BJP and SAD.

"Where did we rake up the issue?," retorts Singh.
"He raked up the issue. Jaitley is the man. He does these sneaky things. Then he expects us all to take the blame for it. He is the one who did it," said Singh, who as a Congress MP had quit the party and Lok Sabha in 1984 in protest against the security forces' action. "It is not an issue any more."
Asked whether he apprehends election malpractices, Singh alleged, "Well Akalis' history is of one of arm twisting, corruption, using money, muscle power, police every thing. So we expect that they will do it though we are ready. See, this is possible when it is a very close fight."

Describing Jaitley as a "non-candidate", he said he had never suggested that there would be a close fight.

"I have never said so. If it is a close fight arm twisting and money can make a difference. When there is a big gap arm twisting and money make no difference," he said.
He also dismissed the suggestion that he was reluctant to contest from Amritsar.
"I was never reluctant. I had suggested (to Sonia) that if you want me to contest its okay, but my views was I could have been used better in the 13 seats ...She rang me and said that I should fight and I said fine," he said.
Asked why Congress fielded him from Amritsar, Singh said, "I think Mrs Gandhi has decided to field all senior people which she had done. Sunil Jakhar is fighting, Ambika Soni is fighting. Senior people are fighting everywhere. And coming back to Punjab, it is up to the Congress President."

Asked if the Congress felt that he was the strongest candidate to take on Jaitley, Singh said, "I don't know...She (Sonia) has chosen me".
On whether anti-incumbency against the government at the Centre will hurt him in Amritsar, Singh said, "I think no because there is more anti-incumbency in Punjab. The amount of corruption, everything going on here...I can tell you the moment assembly elections come they will be totally wiped out."
When pointed out that his party has been out of power for seven years, he said, "This is part of the democratic system. One party is in power, one party is in opposition. So we are doing our role as opposition".

The former Punjab Chief Minister said he would be campaigning throughout Punjab and many of his party colleagues would also campaign for him in Amritsar