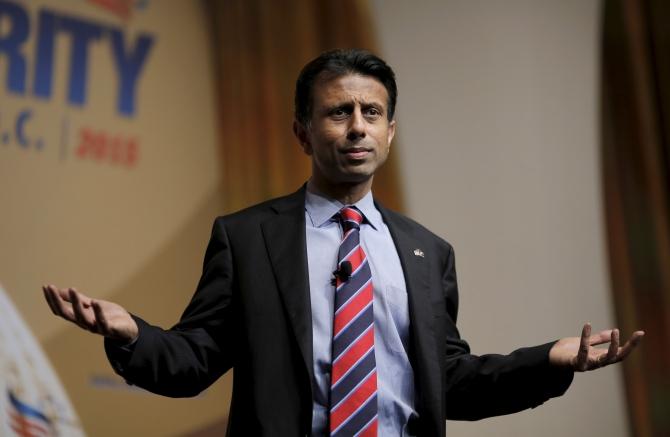 Louisiana Governor and potential Republican presidential candidate Bobby Jindal addresses a legislative luncheon held as part of the "Road to Majority" conference in Washington . Photograph: Carlos Barria/Reuters
Ending months of speculation, Louisiana Governor Bobby Jindal is likely to announce his 2016 presidential bid in New Orleans on Wednesday that will make him the first Indian-American to run for the White House.
When he announces his presidential bid, Jindal, 44, would join 12 Republican contenders that include political heavyweights like Jeb Bush and Rick Perry.
His expected historic announcement, however, has failed to generate much enthusiasm among the Indian-Americans -- whose annual family income now crosses 100,000 per annum and is among the richest ethnic communities in the US -- because of Jindal's recent statements in which he sought to distance himself from being an Indian-American.
Once a rising star of the Republican Party, the two-term governor of Louisiana lost most of his shine after his lacklustre performance responding to President Barack Obama's State of the Union Address in 2009.
In the past two-years, he has worked on his public appearances and has since delivered some impressive speeches. In his state of Louisiana where he has ruled for nearly seven years, Jindal is highly popular.
Tickets for the venue of his announcement in New Orleans have all been taken.
Over the last one year, Jindal has been making trips across the country, giving speeches and meeting people, listening to their concerns. In fact, he has come out with his own independent policies on almost all major issues including the foreign policy.
A vocal critic of Obama, Jindal told PTI earlier this year had sought to improve relationship with India. Jindal, who was born to immigrants from India in Baton Rouge, is the vice chairman of the powerful Republican Governors Association.
Among the Republican presidential candidates, he figures towards the low end of popularity ratings. But an undeterred Jindal says he would run for the president if he is convinced that this is the best way to serve his motherland.
"For some time now, my wife Supriya and I have been thinking and praying about whether to run for the presidency of our great nation. I'm pleased to say that we will announce our final decision on June 24th in New Orleans," Jindal had said in a statement.
Jindal, if he decides to go ahead with his 2016 presidential bid, is expected to run on the plank of opposing the foreign policy of Obama, which he claims has given rise to extremism in the Middle East and Africa and made the United States more unsafe and insecure.