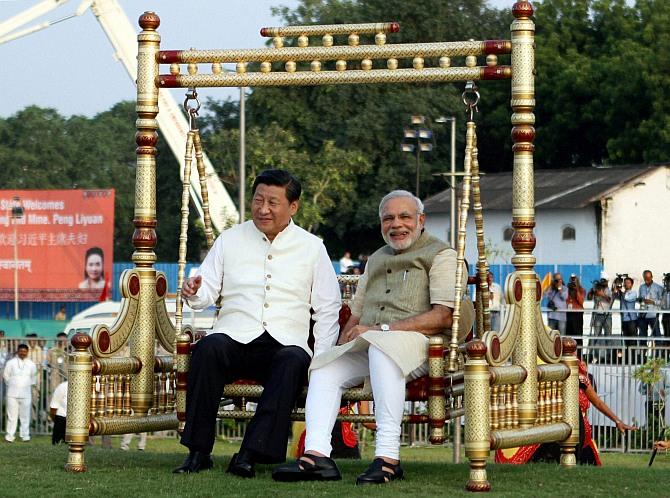 Prime Minister Narendra Modi on Tuesday officially announced his three-day visit to China from May 14 on the Chinese microblog website Weibo, saying he is looking forward to holding productive discussions with the top Chinese leadership aimed at strengthening stability and prosperity in Asia.
"Looking forward to visiting China from 14-16 May to strengthen friendship between our two ancient civilisations and the two largest developing countries," Modi, who will be making his first trip to China as PM, wrote on the Chinese microblog that has over 500 million users.
The prime minister, who has a hectic schedule in China, said he was eagerly awaiting his visit. "(I) Am certain that my visit to China will strengthen stability, progress and prosperity in Asia," he said.
"Eagerly awaiting my visit to Xi'an, Beijing and Shanghai and my productive discussions with President Xi Jinping and Premier Li Keqiang," he said in another post.
"Warmly recall my conversations with President Xi Jinping and his invitation to visit Xi'an in his home province; looking forward to visiting this historic city associated with Xuan Zang (famous Chinese Buddhist scholar) and his journey to India in his quest for knowledge," he said.
The prime minister expressed confidence that his visit will pave the way for bolstering economic cooperation with China in diverse areas.
"I am confident my visit will lay the foundation for further enhancing economic co-operation with China in a wide range of sectors. I also look forward to meeting the captains of industry in Shanghai and sharing with them the wonderful opportunities India has to offer," he said.
In New Delhi, the external affairs ministry later came out with a statement announcing Modi's three-nation six-day trip that will take him to China, Mongolia and South Korea.
"In China, Prime Minister will visit Xi'an, Beijing and Shanghai from May 14-16, 2015. He will hold bilateral meetings with China's leadership and participate in cultural and business events.
"The PM will attend an event organised by the Indian community in China," the statement said. Modi had addressed huge gatherings of Indians at Madison Square in the United States and the Sydney Olympic Park in Australia and Ricoh Coliseum in Toronto, Canada.
Indian associations in different Chinese cities have sent out invitations to their members to take part in the event at Shanghai, the financial hub. This is the first time an Indian leader will be addressing such a meeting in China.
According to official estimates, about 45,000 Indians, mostly professionals, businessmen and students currently stay in China. Modi yesterday made his debut on Sina Weibo, the popular Chinese microblog akin to the Twitter and Facebook, ahead of his visit, saying "Hello China! Looking forward to interacting with Chinese friends through Weibo."
Modi would kick off his visit to China from ancient Chinese city of Xi'an where he would be hosted by President Xi and his wife Peng Liyuan to reciprocate the hometown bonhomie displayed by the Indian leader when the Chinese leader visited Ahmedabad in September last year.
Xi'an is the provincial capital of Shaanxi province, the home province of President Xi.
It is rare for Chinese leaders to receive foreign guests in cities other than Beijing and according to officials Xi was keen to reciprocate warm and innovative welcome extended by Modi when he visited India.
Besides entertaining Xi and Peng with a Jhula ride, which topped the collection of their photo album of foreign visits last year, Modi also took them to Mahatma Gandhi's Sabarmati Ashram where he and Xi spun the 'charkha' in Gandhian style.
Officials say Xi may accompany Modi to the Wild Goose Pagoda, a spiritual structure build to highlight famous Chinese Buddhist monk Xuan Zang's journey to India in 645 AD through the ancient Silk Road and his return after a 17-year long sojourn with precious Buddhist scriptures.
The Xi couple will host a banquet for Modi in Xi'an after which he would arrive in Beijing where he would hold extensive talks with Xi and Li on May 15 that is expected to cover the sticky issue of border dispute, improvement of trade ties and ways to attract Chinese investments into India.
Modi is likely to attend an event along with Li featuring Yoga and Chinese martial art Thai Chi at the Temple of Heaven. On the third day, he would visit Shanghai where he would address business meeting to highlight the importance of 'Make in India' campaign.
Modi's official engagements in Mongolia will be on May 17, the first ever visit by an Indian prime minister to the country.
He will travel to South Korea on May 18 and hold bilateral discussions with President Park Geun-hye and meet with important business leaders in Seoul, the MEA statement said.