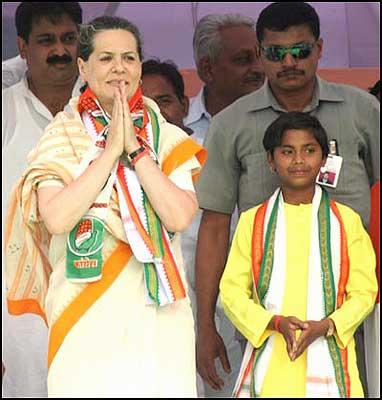 Nope, not Mrs G.
A few hours before Sonia Gandhi took the manch and addressed a crowd of about 20,000 in Rae Bareli, she had a rather painful opening act.
Walking into the maidan, you hear a child yelling jingoistically into the microphone. This is Sadhana Bharati, 11, the kind of over-precocious child that makes you wish someone generously smeared strawberry flavoured lip balm onto duct tape.
Sadhana, hyped by the Congress as their pint-sized answer to Uma -- why any party should seek such a thing is itself beyond comprehension; the idea of an Uma Bharti mini-me is absolutely nightmarish -- has apparently been speaking in public since before she was 3. Now she's a seasoned political campaigner, talking about herself in the third person as she shouts out BJP-deriding slogans.
Sadhana talks like a sycophantic vet, all fire and brimstone as she constantly invokes herself into her speech. She calls herself a daughter to everyone from Rahul Gandhi to Prime Minister Manmohan Singh, and asks for the public's applause. Initially amused, the crowds indulge her -- till the Congress announcer cuts her short and tersely asks her, again, to wind up.
She knows when she is beaten. She asks the crowds to show their support for the Congress by raising both hands, both palms in the symbol of the party's logo. 'And since you have all raised your hands, haath utha hi leeye hain, you might as well clap.'
She deserves a hand for her audacity, and more for finally ending her vitriolic rant.
Text: Raja Sen
Photograph: Uday Kuckian
Coverage: Uttar Pradesh Assembly Elections 2007