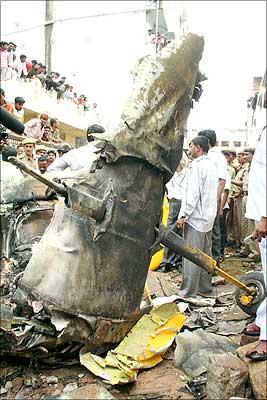 A trainee pilot and his trainer were killed when their Cessna trainer aircraft crashed in to thickly populated area near Begumpet airport in Hyderabad on Monday morning.
The police said the aircraft crashed turning into a ball of fire with a thunderous sound within minutes of taking off, killing both the occupants. While a major part of the aircraft was burnt, parts of its wing and other debris fell on the nearby houses damaging them. A few parts of the aircraft crashed through the roof of a small house causing extensive damage. But miraculously there was no loss of life on the ground.
The Hyderabad city police commissioner B Prasad Rao said that the aircraft belonging to the Andhra Pradesh Flying Club had taken off from the Begumpet air field at 11 am. "within a few minutes it crashed near Fateh Nagar bridge of Sanathnagar", he said.
As the aircraft crashed in to the residential area as a ball of fire with a deafening sound, the panic stricken residents of the area ran helter skelter to save their lives. However as fire threatened to engulf a Ganesh pandal nearby, some people gathered the courage and attempted to put out the fire.
By the time police could reach the site and cordon it off, hundreds of people had gathered at the scene of the crash. Indian Air Force officials also reached the scene of the incident to probe the incident.
The commissioner said the reasons of crash could not be known immediately and a proper inquiry would be conducted.
The victims were identified as trainer pilot Neeraj Jain and trainee Srinivas.
The trainer aircraft had taken off from the Begumpet airport, which was closed for commercial operations in May this year after the opening of a new international airport at Shamshabad, 40 kms away from Hyderabad.

The trainer pilot, Neeraj Jain hailed from New Delhi while the trainee Srinivasulu was from Hyderabad.
Sub inspector of police Ravi Kumar, who was among the first to reach the scene of the mishap said that both the pilot and the trainee were seriously injured and were alive for some time after the crash.

"I along with the local people tried to save their lives by removing them from the debris but we could not do it because of flames and they died after some time", he said ruefully. Both the persons remained bound to their seats by the belts they wore.
Photograph: Snapsindia