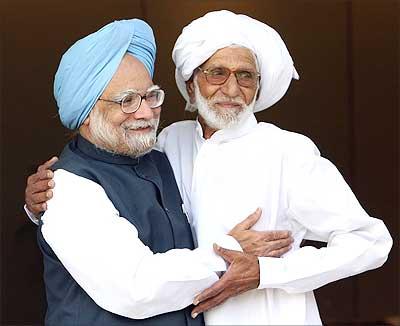 Raja Mohammad Ali's face glows as he recalls his recent meeting with his childhood friend, Prime Minister Manmohan Singh, in New Delhi.
"When he become the finance minister of Hindustan, I was delighted . I started preparations to visit India and bought gifts for my brother and my bhabi. I took pains to buy beautiful tille ki jootis for both of them, but I could not make it as I fell ill days before my trip," Ali told rediff.com, in an exclusive interview at the government guest house in Golf Links at New Delhi.
He was destined to meet Dr Singh when the latter became the Prime Minister of India.
"Dr Singh did not call me. I came on my own to see my friend. We used to go to school together, with a bori each, to sit on it. Right from the beginning, Manmohan was an introvert, who would spend more time on thinking. He was very good at maths," recalls Ali.
Ali, in his late 70s, carried village soil and Punjabi jutis for Dr Singh. The duo had studied together in Gah village of Chakwal district in Pakistan's Punjab province.
While Dr Singh got admitted to Gah Sikh Higher Secondary School to continue his education, Raja Mohammad Ali's education came to an abrupt end in standard 4."My brother told me to till the fields and take care of our animals," he recalls.
Ali talks about their mischevious school days, and how the prime minister was "reluctant to join in when it came to sports".
"So, we often used to throw him in the village pond. When he became the prime minister, the government finally laid a pucca road in the village. We are still waiting for his visit. When I asked him to sort out the problems between India and Pakistan, he said, 'I am working on it my friend,'" said Ali.
However, Ali was apprehensive about meeting Dr Singh after so many years. "Will he receive me? Should I hug such a big man?"
His doubts were laid to rest when Dr Singh, who arrived with his wife Gursharan Kaur, greeted his childhood friend with open arms.
"He was very kind to me and received my humble gift with honour and dignity. My bhabhi was equally kind. Dr Singh asked me about each and every student and teacher of our school in detail. He granted money for two gobar gas plants for his village so that every house has electricity," Ali said.
Though Raja Mohammad Ali and his relatives have left for Pakistan, they will probably remember this meeting with pride, and tell their next generations about the boy from their village, who went on to become the head of one of the most influential nations on earth.
Image: Prime Minister Manmohan Singh with his childhood friend from Pakistan Raja Ali Mohammad at his residence in New Delhi on May 30.
Photograph: Prakash Singh/AFP/Getty Image