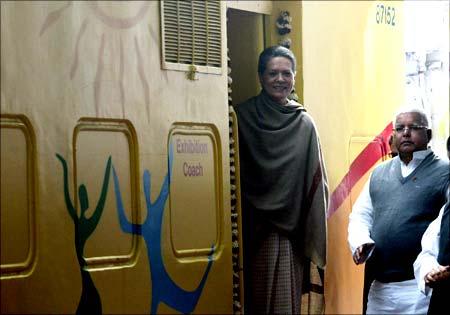 A specially-designed seven coach train, which will travel across the country carrying HIV/AIDS prevention messages, was on Saturday flagged off by United Progerssive Alliance chairperson Sonia Gandhi on the occasion of World AIDS Day. 
The Red Ribbon Express will aim at spreading awareness about HIV, promoting safe behavioural practises and fighting the stigma and discrimination against AIDS.
Emphasising on the urgent need of fighting social discrimination against those affected with AIDS, Gandhi said, "It is a battle which can and must be won".
This project will help in bringing to the mainstream the fight against the disease, she added.
"It continues to be a major public health concern. No single thing has had such an impact in the world. Men and women in the prime of their youth have been lost to this disease," she said.
Over its year-long journey, the train will traverse over 27,000 km covering 180 stations and hold programmes and activities in over 50,000 villages.
Traveling with the train will be two exhibition buses and cycle caravans that will cover the peripheries of the districts reaching out to crores of people.
Railway Minister Lalu Prasad Yadav, who was also present on the occasion, announced that the government will make available another train for the same purpose. Pledging his support to the project, Prasad said, "The Indian Railway network serves as the ideal route to roll-out a mass mobilisation initiative intended to reach every nook and corner of the nation".
The campaign will include on-platform and off-site communication activities for maximum outreach and impact. The gamut of activities include publicity to mobilise people which will be carried out through radio, TV, newspapers and outdoor activities three days prior to the arrival of the train.
Image: UPA chairperson Sonia Gandhi with Union Railway Minister Lalu Prasad Yadav during the launch of the Red Ribbon Express Train at Safdarjung Railway station in New Delhi.
Photograph: Raveendran/AFP/Getty Images