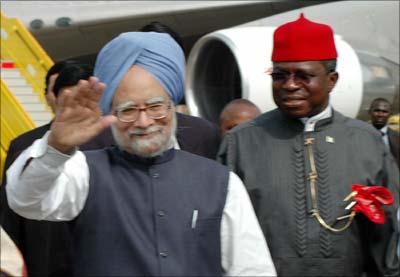 The first leg of Prime Minister Manmohan Singh's two-nation visit to Africa began on Sunday when he arrived at Nigerian capital Lagos.


The Nigerian government rolled out the red carpet for Dr Singh, his wife Gursharan Kaur and his entourage as the Prime Minister's Special Aircraft landed at the Nnamdi Azikiwe international airport.
Foreign Minister Ojo Nadue Madukwe received Dr Singh at the tarmac as colourfully bedecked men and women dancers accompanied by children performed a traditional dance to the beating of the drums. Indian High Commissioner H H S Vishwanathan was also present.
In Nigeria, Dr Singh will address a joint session of National Assembly, which, the prime minister said was a 'great honour to India.' 

The visit is expected to provide the roadmap for further development of bilateral relations, which are quite warm as both the countries share similar views on matters of regional and global importance.
Image: Prime Minister Manmohan Singh waves upon his arrival at Nigerian capital Abuja. Behind him is Nigerian Foreign Minister Ojo Maduekwe.
Photograph: Str/AFP/Getty Images