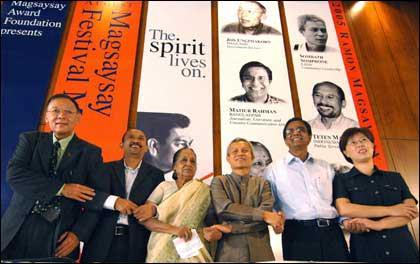 Presenting the awardees of the 2005 Ramon Magsaysay Awards, given away on Monday.
From left to right: Jon Ungphakorn of Thailand for government service, Teten Masduki of Indonesia for public service, Dr V Shanta of India for public service, Sombath Somphone of Laos for community leadership, Matiur Rahman of Bangladesh for creative communication arts, and Hye-ran Yoon of South Korea for emergent leadership.
They stand proudly, arms linked, at the Ramon Magsaysay hall in Manila.
The Ramon Magsaysay Awards Foundation was set up in May 1957 in honour of popular Philippines president Ramon Magsaysay who died in a plane crash in March 1957.
Dr Shanta, Chairperson of the Cancer Institute and an eminent physican in Chennai, was given the award in recognition of her 'untiring leadership of the Cancer Institute as a centre of excellence and compassion for the study and treatment of cancer in India.'

Also see: 'It's been a very long journey'
She is the niece of Nobel Laureates Sir C V Raman and Dr Subrahmanyam Chandrashekhar. At 78, Dr Shanta still manages to give thousands of patients hope. She has no intention of stopping either.
Photograph: JOEL NITO/AFP/Getty Images