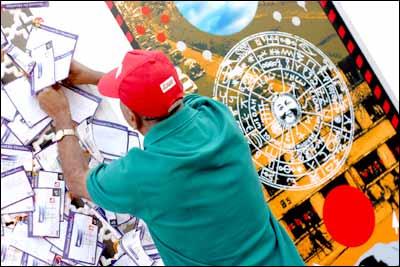 The Mannat-e-Deewar has become Mumbaikars' Wailing Wall since the Mumbai Festival began recently.
As you pass along the seaface across the Mumbai Police Gymkhana you come across this facade festooned by suggestions about how to make the city better.
The neat, white chits are provided by the young volunteers of JSW, which is organising the art and heritage part of the festival.
The 'Mannat for Mumbai' wall is aflutter with suggestions, some ranging from plain 'I love Mumbai' to more thoughtful attempts like 'Lets all get together to keep up the spirit...'
The idea is to get the 10 best suggestions and forward them to the state government for action.
The messages come in all languages, typical of Mumbai's cosmopolitan nature... all tied to a grille by bright threads.
The wall is special in more ways.
Embedded are seven paintings by seven artists, each one expressing his/her feelings about Mumbai. The artists are Rina Saini Kallat, Justin Ponmany, Apnavi Thacker, Riyas Komu, Baiju Parthan, Sudarshan Shetty and Bose Krishnamachari.
Simple messages from passersby are the ones drawing attention.
Girish Bhatt (seen in the pic), 70, has been a Mumbaikar for more than six decades. His message is a simple: 'I love Mumbai and wish the best for it.'
How come he doesn't have even one little grouse to write about? "I don't want to break my head on the wall of corruption in the government," he says. Couldn't be put better or more pithily.
One says, "I need a job. Could the government reduce the population, so it is easier to get a job?"
Another says, "When will I see Mumbai as Shanghai?"
Perhaps the strangest suggestion is this: "There should be no difference between men and women." That's one the government can't do even if all corruption ends!
Photo: Jewella Miranda; Text: George J