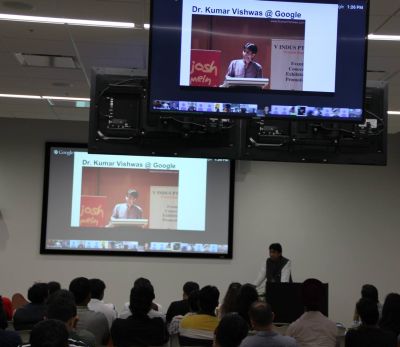 The Modi government's response to infiltration at the India-Pakistan border, Kumar Vishwas told Google staff, was weak, adding that there had been 19 infiltration attempts and ceasefire violations by Pakistan since the new government took charge.
Ritu Jha/Rediff.com reports from Mountain View, California.
In what must be a first, Google Inc had a Hindi poet to address its employees on leadership on Tuesday, July 29.
Aam Aadmi Party leader Dr Kumar Vishwas spoke to over 100 Google employees about his career and his transition from academics to activism and politics.
"Change in India is a must," said Vishwas who contested the Lok Sabha election from Amethi against Rahul Gandhi and Smriti Irani. "But it takes time and has to seep through to the lowest levels of society."
"I hope you will participate in this change in the years to come," he told his Google audience. "If not, future generations of engineers, professionals, poets and others will not think about the country and that is going to hurt all of us in the long run."
Calling his party a catalyst in Indian politics, Vishwas said he believes the AAP is a political movement and not a political party.
"It's not a typical political party like the Congress or BJP (Bharatiya Janata Party). As long as the party continues its political activism, I am in it. If it starts functioning like any other political party, I will try to come out of it," he said.
Speaking on the AAP's demand for a fresh assembly election in Delhi, Vishwas said the AAP -- which won 34 seats in last December's Delhi assembly election and later formed a government with Congress support -- had repeatedly requested the lieutenant governor to call an election, but the BJP government at the Centre was not in a mood to oblige.
"If they hold elections in Delhi, I am hopeful the AAP will bounce back and Delhi will see a corruption-free government," Vishwas said.
The new government at the Centre, Vishwas said, has not been able to fulfil its promises to the people. Pointing out the government's weak response to infiltration at the India-Pakistan border, he said the Narendra Modi government was only talking tough. In the past two months there were 19 infiltration attempts and ceasefire violations by Pakistan, Vishwas said.
"The government promised it would look into women's safety, but have inducted a minister (Nihal Chand, the Union minister of state for chemicals and fertilisers) accused of rape. There is also anger amongst the people on the issue of price rise. So, I think they (the BJP) are scared to face elections (in Delhi)," Vishwas said.

"When (AAP leader) Arvind Kejriwal became the Delhi chief minister he did what he promised -- reducing electricity charges and providing free water to the poor." Vishwas argued that the Narendra Modi government could do the same. "He has a wonderful Cabinet. He has 48 MPs who are PhD holders."
Vishwas said he could not understand why Modi gave the education ministry to a woman (Smriti Irani, the minister for human resource development), who was a 12th standard pass. "How will she handle institutions like the IIT?" he asked.
Vishwas, who is currently working on some Bollywood projects, added he felt honoured that singer Asha Bhosle had agreed to sing a song he wrote for a film.
"It is a big honour... like a lifetime achievement," he said.
Image: Aam Aadmi Party leader Dr Kumar Vishwas speaks at the Google headquarters in Mountain View, California.