A machete-wielding man who stabbed three men at London Underground train station on Saturday has been charged with attempted murder even as police sought to reassure jittery Britishers about the new security measures taken in the wake of latest terrorist attack in UK since 2013.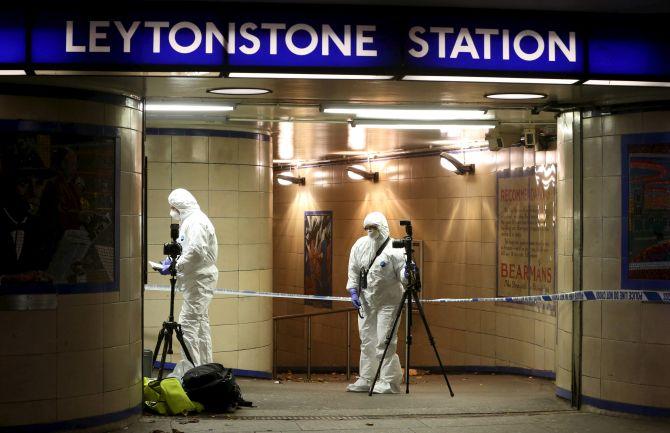 Police tape is seen at a crime scene at Leytonstone underground station in east London, Britain. Photograph: Neil Hall/ Reuters
Muhaydin Mire, 29, stabbed three people, including a 56-year-old man who was left with "serious" stab wounds, at Leytonstone Tube station, screaming "this is for Syria".
Mire was arrested after being tasered by police officers and he is due to appear at Westminster Magistrates' Court in London later on Monday.
The stabbings, described by the Scotland Yard as a "terrorist incident", came just days after Britain launched its first air strikes against terrorist targets inside Syria.
Detectives from Scotland Yard's Counter-Terrorism Command searched a home in east London over the weekend and questioned the suspect.
Deputy Chief Constable Adrian Hanstock from British Transport Police has appealed to anyone with photos or video of the attack at the Central Line Tube station to contact the force.
"We would like to reassure passengers and people travelling this morning that we've increased our staff -- they'll see a lot of police officers across the network, as well as some of our supporting and complementary teams that provide a more specialist response," he said.
Police in London are also stepping up patrols at transport hubs to "identify and deter terrorism".
This is the first terrorist attack on British soil since the murder of fusilier Lee Rigby in May, 2013.
Britain is on its second-highest alert level of "severe", meaning a militant attack is considered highly likely, mainly because of the threat posed by IS militants who are encouraging supporters to attack the West.