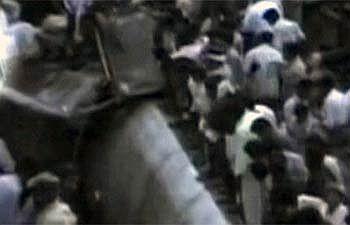 At least eight persons were killed on Tuesday night and 85 others injured when a passenger train from Chennai rammed into a stationary train near Arakkonam, derailing five coaches, about 75 km from Chennai, in the third major rail accident in two months.
IG North Zone Syleendra Babu said eight persons were killed in the collision that saw both the trains coming on the same track.
Additional Division Railway Manager in Chennai, Usha Venugopal, said seven bodies have been recovered from the five mangled bogies which were thrown off the track following the incident at around 9.40 pm.
In Delhi, Railway Board Chairman Vinay Mittal said 85 persons have been injured and the casualty figure could go up.
Railway Minister Dinesh Trivedi announced exgratia of Rs 5 lakh to the next of the kin of the dead, Rs 1 lakh for those grievously injured and Rs 25,000 for those who suffered simple injuries.
He said the cause of the accident could not be ascertained immediately. Mittal said according to preliminary report it could be a human error.
Trivedi said the signal was red when the collision took place. The driver of the EMU A Rajkumar is among the injured.
His breath analysis was negative for alcohol.
Trivedi said he along with the Minister of State for Railways K H Muniappa, Mittal and other senior officials would reach the accident site on Wednesday.
Four other bogies of the two trains were also affected. The staionary Arakkonam-Vellore passenger train was waiting for the green signal near Sitheri Station when the Electric Multiple Unit running between Chennai Beach and Vellore rammed into it from behind.
A railway spokesman the injured people were admitted to various government hospitals in Arakkonam and Vellore.
Rescue workers used gas cutters to help pull out the trapped passengers from inside the derailed bogies. Relief trains and two teams of National Disaster Response Force have been rushed to the accident site.
However, rescue and relief efforts were hampered by heavy rains and darkness in the area. Train traffic on the busy Chennai-Katpadi section was disrupted and several trains leaving Chennai Central affected.
Several trains, including Coimbatore-bound Cheran Express, were cancelled, officials said.
On July 10, 70 people were killed when the Howrah-Kalka Mail derailed near Kanpur and three weeks later some coaches of the Guwahati-Bangalore Express derailed in Malda district of West Bengal and were hit by another train leaving three persons dead.
Image: A TV grab of the train accident
Chennai Helpline numbers: 044 25357398, 044- 25347771, 09244919572