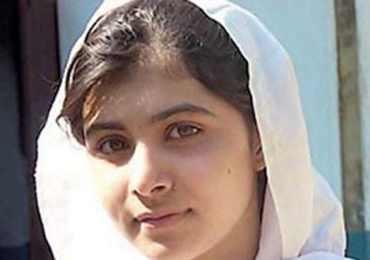 If we really want to prove that we are all like Malala, then we have to stand up for our rights like Malala did, says senior Pakistan journalist Hamid Mir
She always surprised me. Malala Yousafzai was only 11 years old when she first met me in Mingora city of Swat valley in the early spring of 2009. This beautiful valley was under Taliban control at that time and I entered Mingora after a peace agreement between pro-Taliban cleric Sufi Muhammad and the government.
I had planned a live television show from Mingora on the night of February 18, 2009.
Just a few hours before the show, our correspondent in Mingora, Musa Khankhel, called me on the phone and warned that I must be careful because 'they' had planned to kill some journalist for sabotaging the peace agreement.
I asked him who were 'they' and he said he would let me know soon. After a short while, I was informed by one of our cameramen that Musa had been kidnapped and killed by unknown people near Matta area.
Thirty-two bullets were pumped into his body. I led a protest rally in the same evening in front of the Mingora Press Club with Musa's coffin on our shoulders. We were raising slogans against the assassination of our colleague. I remember that a little girl with a white shawl on her head was also raising slogans with us. Her courage surprised me.
She was Malala Yousafzai, who had joined our protest with her father Ziaudin Yousafzai who was the owner of a private school in Mingora. After an hour of that protest, I was doing a TV show at 8 pm with the local crowd.
Malala was again present in the crowd, and she wanted to speak on my show. I was told by her father that she also blogged on BBC under the pen name Gul Makai.
I advised that she should not disclose Gul's identity and she must be careful -- but Malala wanted to speak that night. I never stopped her. She only demanded the right to education and expressed the hope that her school will be reopened after the peace agreement.
She was not only intelligent but also very brave. Taliban cadres were standing behind her with weapons hiding under their chadars (shawls) but Malala openly said that she will get education at any cost.
Malala was the star of my show that night. It was her first ever appearance on television.
Unfortunately, the peace agreement never worked in Swat. The army finally launched an operation in Swat, and Malala migrated along with thousands of other Swatis.
One day she called me from Peshawar and again surprised me with her determination. She said the Taliban were not defeated in the Fata region because the local population was not on board -- but said the tables had turned and they would be defeated in Swat because the local population had turned against them. I wrote an article on the optimism of Malala in The News on May 8, 2009, and quoted her: 'The Taliban will be defeated this time'.
Her prediction came true. The Taliban were defeated in Swat. Malala was back to her school in August 2009.
One day she visited me in Islamabad with her father. She told me that the children of Swat were facing many problems because of the curfew and security check posts. I invited her again on my show to speak about the problems.
She criticised the government policies in the presence of Begum Shehnaz Wazir Ali who was advisor to the prime minister at that time. Her confidence again surprised me and my viewers.


She started getting attention from all over the world. In January 2010, United States Special Envoy for Pakistan and Afghanistan Richard Holbrooke visited Swat and met Malala.
It was the US government's first-ever contact with Malala. Halbrooke told Malala that the US wanted peace in Swat and his government would provide $175 million for the rehabilitation of Swat.
Little Malala was thankful to Holbrooke and that was why in one of her TV interviews she appreciated US President Obama for his peace efforts. The Taliban were already annoyed with Malala. This interview provided them an 'excuse' to declare her an American agent.
They warned her against speaking up or leave Swat, but she was relentless. Her conscience was clear. She was against the Taliban because they had shut down her school. She was also against the US drones attacks because many innocent children were killed in those attacks.
She said once, "If we can control the Taliban in Swat, then why not in Fata?" She was of the view that if we could control the Taliban in the tribal areas, then the US would have no justification for the drone attacks. She angered the Taliban by such statements.
Finally, the Taliban decided to punish this 14-year-old girl and tried to silence her voice of hope with their bullets of hatred.
Earlier, when she had received threats she was offered security by the government but she had turned down the offer. Did she miscalculate the cruelty of the enemy? Or maybe she thought because she was a little girl, the Taliban would not attack her.
She was proven wrong when a masked terrorist attacked her on the way back from school on October 9. The murder attempt was a great shock for common Pakistanis because the Taliban immediately claimed responsibility.
What was Malala's crime? She had only demanded education.
She had become a symbol of girls' education before the attack on her.
She became a symbol of national unity and bravery after the attack. Today, Pakistan stands behind her except some people who are still living in a state of denial.
When I first met her, I never imagined that one day the Western media will compare Malala's courage with Joan of Arc who led the French forces against the British in 1429. I never thought the Indian media will declare her a young Rani of Jhansi who resisted the British in 1857.
I never expected that one day Madonna will sing songs in praise of Malala. I felt very proud when an Afghan journalist friend called me from Kabul and said that 'Your Malala repeated the history of Malalai of Maiwand who participated in a war against British Army in 1880 near Kandhar'.
Little Malala has given a new recognition to Pakistan all over the world. She is the new face of Pakistan.
Many people are now raising slogans such as 'We are all Malalas'  -- I disagree with them. No, we are not like Malala. No political leader, religious scholar, journalist, judge or military general showed more courage than Malala in the last three years.
Yes, we can praise her. Yes, we can try to use her name for fulfilling our own political and personal agendas, but we cannot face our armed enemy without weapons. We should not make wrong claims. We should not fool ourselves.
If we really want to prove that we are all like Malala, then we have to stand up for our rights like Malala did. We must stand up against all those who are violating our sovereignty from inside and outside of Pakistan. We must not allow the Taliban to challenge the writ of the State.
We must not allow US drones to violate our air space. If somebody is using our territory for terrorism it's our job to stop them. If Malala can stand up against armed non-State actors, why is the State looking helpless when it has all the weapons?
Stand up now!
Hamid Mir is the Executive Editor and senior Host of Geo TV