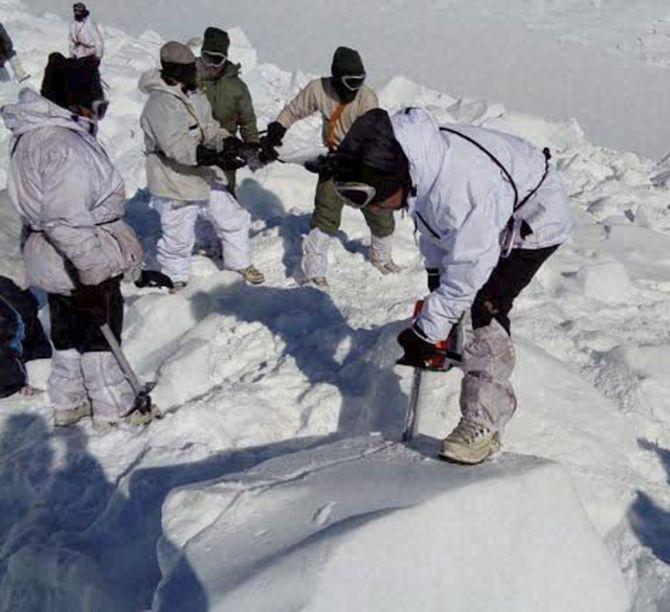 Subedar Nagesha
A resident of Tejur village in Hassan district of Karnataka, he was recently posted to the northern glacier of the Leh segment. Nagesh is survived by a wife and two children.

Havildar Elumalai
He hailed from Dukkam Parai village in Vellore district of Tamil Nadu.
Lance Havildar S Kumar
A resident of Kumanan Thozhu village in Teni district of Tamil Nadu, the 35-year-old martyr is survived by his wife Kavitha, a school teacher, and a daughter.
Lance Naik Hanamanthappa Koppad
A resident of Koppal district in Karnataka, Koppad served in difficult and challenging areas for 10 out of 13 years of his total service. He was posted in Mahore in J&K from 2003 to 2006, where he was actively involved in counter-insurgency operations. He again volunteered to serve with the 54 Rashtriya Rifles (Madras) in Jammu and Kashmir from 2008 to 2010, and later in the northeast from 2010 to 2012 where he took part in operations against the NDFB and ULFA.

Lance Naik Sudheesh
He hailed from Monroethuruth village in Kollam district of Kerala.

Sepoy Mahesha PN
A resident of HD Kote village in Mysore district of Karnataka, Mahesh was part of the Army since 12 years. He was deployed to Siachen few months ago.

Sepoy Ganesan G
A resident of Chokkathevan Patti village in Madurai district of Tamil Nadu, the 26-year-old was the son of a goods loader. His 17-year-old brother is a school student.

Sepoy Rama Moorthy N
A resident of Gudisatana Palli village in Krishnagiri district of Tamil Nadu, the 32-year-old joined the Army seven years ago. Moorthy, who got married three years ago, is survived by his wife Sunitha.

Sepoy Mustaq Ahmed S
He hailed from the Parnapalle village in Kurnool district of Andhra Pradesh.

Sepoy Nursing Assistant Sunil Suryawanshi
A resident of Maskarwadi village in Satara district of Maharashtra, Suryawanshi was recruited as a sepoy in 2012 when he was in his second year of Bachelors in Science degree. His posting at Siachen was a dream posting, because he loved nature and the mountains, especially the blue and white ones.