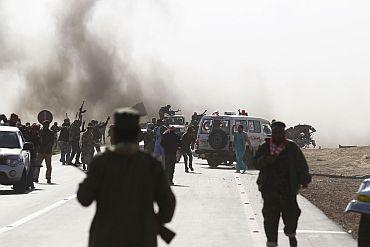 Fierce fighting raged on Saturday between the rebels and troops loyal to Muammar Gaddafi for the control of the eastern oil town of Brega as the government of the embattled leader dismissed conditions for a ceasefire as "mad".
Opposition forces and Libyan troops were locked in intense battle near Brega and the towns of Az Zintan and Misurata, the last major opposition stronghold in west for weeks amid relentless air strikes by coalition forces.
In the village of Argkuk, near Ajdabiya, Al Jazeera reported the death of seven civilians and injuries to 25 others in what appeared to be a North Atlantic Treaty Organisation-led coalition air strike on a pro-Gaddafi vehicle carrying ammunitions.
BBC said Nato was investigating the report. Mussa Ibrahim, the government spokesman, termed the strike a "crime against humanity".
He also scorned rebel conditions for a nationwide ceasefire, term it "mad". "They are asking us to withdraw from our own cities. .... If this is not mad then I don't know what this is. We will not leave our cities," Ibrahim was quoted as saying by Al Jazeera channel.
He said Gaddafi's troops would never withdraw from the rebel-held cities and remain stationed there. In the rebel-stronghold of Benghazi, opposition leader Mustafa Abdul Jalil on Friday said they would agree to a ceasefire if Libyans still under Gaddafi's regime are granted freedom of expression and forces loyal to him withdraw from cities.
"We agree on a ceasefire on the condition that our brothers in the western cities have freedom of expression and also that the forces that are besieging the cities withdraw," he said at a joint press conference with Abdelilah Al-Khatib, the UN envoy.
Soon after the UN resolution authorising international air strikes against Libya was approved, Gaddafi had announced a ceasefire immediately.
However, his troops have besieged Misurata and attacked eastern cities that have slipped out of his control, including the opposition stronghold of Benghazi.
Amid the intense fighting in the east, the Arab channel said the rebels appeared to have more communication equipment such as radios and satellite phones, and were working in more organised units.
Abdel Fatah Yunis, the former interior minister who resigned to join the opposition, has been appointed as the commander of the opposition military forces combating pro-Gaddafi troops, Al Jazeera said.
The channel quoted Ali Tarhouni of the opposition's National Transitional Council as saying that Qatar has agreed to market oil currently in storage in rebel-controlled areas of southeastern Libya. He said it would enable the rebels to buy more arms.
Even as Gaddafi's forces have recaptured the rebel-held towns including Ras Lanuf and Bin Jawad, there was mounting speculation of his aides looking for an exit strategy. The embattled leader suffered a major setback when his Foreign Minister Moussa Koussa defected.
Top Libyan leader Ali Abdessalam Treki, who had been named country's new envoy to UN, spurned the job and defected to Egypt.
Treki, a former foreign minister and ex-president of the United Nations General Assembly who has worked closely with Gaddafi for decades, announced his exit on opposition websites, declaring "it's our right to live in freedom and democracy."
There is speculation that some other senior leaders, close to 68-year-old Gaddafi, may also dump him in a bid to end his 42-year-old rule.
Al-Jazeera and other media reports said guards have been posted to prevent any other official from leaving the country.
According to BBC, top Gaddafi envoy Mohammad Ismail has been in London for the past few days for talks with British authorities.
It said the visit had come in the backdrop of speculation that Gaddafi's sons, particularly Saif ul-Islam, Saadi and Mutassim are willing to discuss exit strategies for the whole family or only the Libyan leader.
Image: Rebels run from explosions during a mortar barrage fired by troops loyal to Muammar Gaddafi outside Brega in eastern Libya
Photograph: Finbarr O'Reilly/Reuters