The mortal remains of the nine Siachen bravehearts, who were buried alive on February 3 in an avalanche in the world's highest battlefield, were on Monday brought to New Delhi to be flown to their respective states.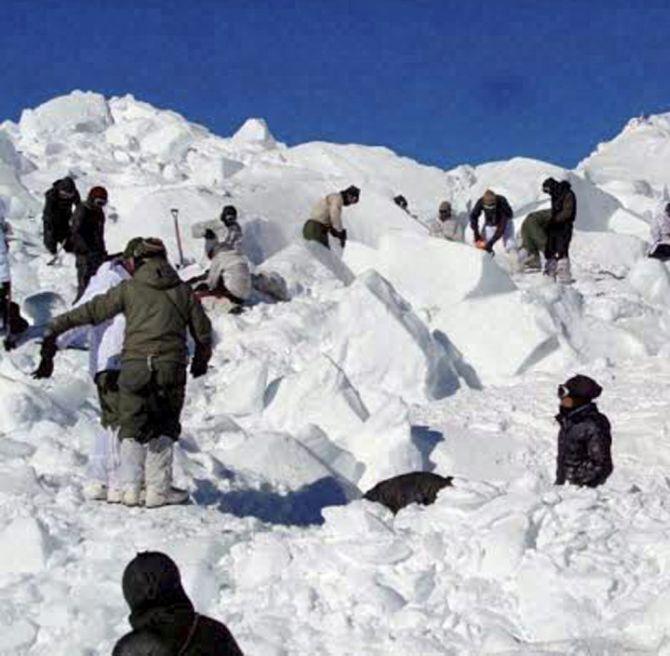 A wreath-laying ceremony was also held at the Palam Technical Airport which was attended by Minister of State for Defence Rao Inderjit Singh, Army chief Gen Dalbir Singh Suhag, Indian Air Force chief Air Chief Marshal Arup Raha among others.
Subedar Nagesha TT

One of the nine whose mortal remains were brought was, a highly motivated Junior Commissioned Officer, also known as 'Rambo'.
The JCO had served 12 years in tough field areas out of his 22 years of service. During his career, he had taken part in 'Operation Parakaram' where he laid and recovered large number of mines, officials said.
He also participated in Operation Rakshak at Mendhar in Jammu and Kashmir for two years where he was actively involved in counter-insurgency operations. He volunteered to serve with Rashtriya Rifles in Jammu and Kashmir for two years.
The JCO also volunteered to serve as a commando in the National Security Guard for three years. Later, he went to North East from 2009 to 2012 to take part in 'Operation Rhino' where he was part of several successful operations against the militants as the ghatak platoon JCO, they said.
His colleagues remember him as 'Rambo' who used to lift others weapons as well as load in addition to his own. He was highly adventurous and also did a para-motor course with outstanding grading. He is survived by wife Asha and two sons AmitTN and PreethamTN aged six and four respectively.
---
Havildar Elumalai M

Havildar Elumalai M, a Non Commissioned Officer, who had high level of initiative and was always willing to carry out any task assigned to him, was also among the dead.
He joined 19 Madras Regiment on October 28, 1996 and ever since he became an inseparable part of the battalion. The NCO had always displayed high degree of
courage and had conducted several successful small team operations against terrorists in both Jammu and Kashmir and North East during his nine years of field service, the officials said.
Because of his ability to motivate his juniors and lead them from the front ,the NCO was selected to be part of Sonam Post which required men with nerves of steel and high level of physical fitness.
He attained instructor grading in weapon course at InfantrySchool, Mhow and was posted as an instructor at The Madras Regimental Centre, Wellington where he trained several recruits and his work was praised by his superiors. He was also part of the Unit Training Team prior to induction of the unit to Siachen Glacier.
Because of his high level of intelligence and ability to carry out work without supervision, the NCO had passed his promotion tests and was about to pickup ranks of a Junior Commissioned Officer, the officials said.
He was married to E Jamuna Rani and has two sons six-year old E Kavirasu and four-year old E Sri Priyadarshan.
---
Lance Havildar S Kumar
Lance Havildar S Kumar was yet another highly motivated and sincere soldier who was killed in the avalanche.
He joined the Madras Regiment on October 31, 1998 and had served in difficult and challenging field tenures for nine years out of his 17 years service to the nation, they said.
The soldier also has rare distinction of serving in the Siachen Glacier twice.
Kumar volunteered to serve in the Siachen Glacier as a young soldier in 1999-2000 and he once again chose to serve in Northern Glacier with his own paltan. He was hand-picked by the commanding officer to be part of one of the most important post situated at an altitude of 19,600 feet.
He is survived by his wife Kavita and eight-year old son Riyash.
---

Lance Naik Sudheesh B
Lance Naik Sudheesh B, known as "all in one", was also killed in the avalanche. A brave soldier, he had served in Jammu and Kashmir in 'Operation Rakshak' fighting insurgency. During his tenure, he has been part of intelligence collection team of the unit and also helped the battalion carry out several operations successfully.
A great sportsman, he was part of all the sports activities of the Battalion. You name a sport, and he played it. His peers called him "all in one". He is survived by his wife Salumul P who has been a pillar of support to him in his endeavour to serve the nation.
---
Sepoy S Mustaq Ahmed

Sepoy S Mustaq Ahmed was an ever cheerful and confident soldier of 30 years of age.
He joined 19 Madras Regiment on September 21, 2004. Ever since he joined the battalion, he was a constant source of motivation for his peers and subordinates.
His friendly and cheerful attitude gave him unflinching support from superiors and colleagues alike, army officials said.
Hailing from the Kurnool district of Andhra Pradesh, Ahmed was full of initiative and always volunteered for any opportunity.
During his illustrious career spanning over a decade he had formed part of the battalion counter militancy in the North East as also in the state of Jammu and Kashmir.
In August last year, when the battalion was to be inducted in the Siachen Glacier, Ahmed, true to his patriotic and daring nature, volunteered to be the part of one of the
most crucial post in the Glacier at an altitude of 19600 feet, having sub zero temperature, they said.
Ahmed has left behind his wife S Nasimun and his parents.
---
Sepoy Mahesha PN

Sepoy Mahesha PN had enrolled in the regiment on October 10, 2005. He displayed a very high degree of initiative and served seven years in difficult and challenging areas out of the total span of 11 years of his service, the officials said.
He was a sharp shooter of the Battalion and was part of the battalion firing team which won many competitions.
He is survived by his mother Sarvamangala and a younger brother Manjunath. He was the sole bread earner of his family.
---
Sepoy Rama Moorthy N

Sepoy Rama Moorthy N always volunteered for toughest of the jobs which his Battalion had to undertake.
He enrolled in Madras Regiment and was posted to 19th Battalion of the Madras Regiment on December 13, 2009.
In the short span of seven years of his service the individual was actively involved in 'Operation Rhino".
During this tenure, he was part of the Quick Reaction Team of the company and played an important role in several successful operations. He was recently married to Sunita.
---
Sepoy Ganesan G

Sepoy Ganesan G was also killed in the avalanche. He became part of the 19th Battalion the Madras Regiment on April 5, 2010. He hailed from the Madurai district of Tamil Nadu and was always full of confidence and patriotism.
He has been instrumental in motivating his peers to perform well by setting personal example to them. During his career spanning over six years, Ganesan served in counter insurgency operations both in Jammu and Kashmir and the North East.
In August last year, when the battalion was inducted into the highest battle field in the world, the Siachen Glacier, he was the youngest blood to be chosen to guard the frontiers at the important Sonam Post at freezing temperatures.
Inspired by him, his younger brother also joined the army to serve the motherland. He is survived his parents and younger brother.
---
Sepoy/Nursing Assistant Suryavanshi SV

Sepoy/Nursing Assistant Suryavanshi SV was born on 25 May 1991 at Village Maskarwadi, District Satara (Maharashtra).
After finishing his school from Dahiwadi College District Satara with good marks in science subjects, Suryavanshi opted to join the army, and was selected as a nursing assistant in Army Medical Corps on September 30, 2010.
The soldier completed his basic training from Army Medical Corps Center & College on April 9, 2011 and got his first posting at CommandHospital, Eastern Command.
After that, Suryavanshi joined 410 Field Hospital on permanent posting in 2013.
He has managed the responsibility of Medical Inspection Rooms located in various difficult in Operation Meghdoot on October 6, 2015, they said.
The soldier is survived by his wife, daughter and parents.