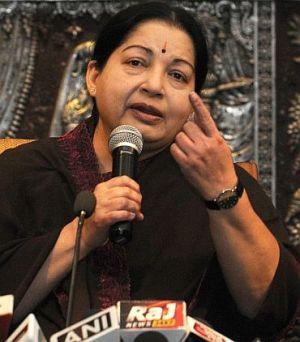 Close on the heels of the controversial arrest of a singer for criticising Tamil Nadu Chief Minister Jayalalithaa, a lawyer in Udhagamandalam was arrested on Friday on charges of uploading a post on a social networking site 'derogative' of the leader.
Advocate B C Sridhar was arrested in the wee hours on a complaint from a local All India Anna Dravida Munnetra Kazhagam functionary that he had allegedly posted a picture of a model with the morphed face of Jayalalithaa on November 10, Diwali day, police said.
AIADMK town secretary Devaraj in his complaint said the post in which the model was shown holding a liquor bottle and greeting the people on Diwali had gone viral and affected the prestige of the chief minister.
In a pre-dawn action, police went to Sridhar's house and arrested him. He was produced before a vacation judge at around 2.30 am, police said.
Police has registered cases against Sridhar under the Tamil Nadu Prohibition of Women Harassment Act and Information and Technology Act.
The advocate was remanded to judicial custody and lodged in the sub-jail around 4 am, police said.
The state police had last month arrested 54-year-old ultra-Left propagandist singer Kovan on charge of sedition for allegedly uploading 'defamatory' electronic content against Jayalalithaa and 'disturbing' public peace.
The allegedly defamatory videos over the liquor vending policy of the state government were uploaded on some Tamil websites and also went viral on messaging media like WhatsApp.