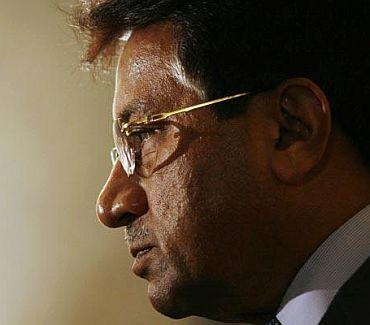 The Pakistan government on Monday asked the Supreme Court to launch treason proceedings against former dictator Pervez Musharraf for imposing emergency in 2007, the first time the civilian administration has sought the criminal prosecution of a military ruler.
A letter sent by the Law Ministry to the apex court registrar's office sought the formation of a special court with three judges to try the 70-year-old former army chief for high treason, a charge that could entail the death penalty or life imprisonment.
The letter, to be put before the supreme court chief justice for further action, stated the trial should be held as soon as possible. The prosecutor for the case too should be selected immediately, it added.
Musharraf's spokesperson has described the government's decision to initiate the case against him as a "vicious attempt to undermine the Pakistan military".
The military has ruled Pakistan for about half of its 66-year history and no ruler or top military commander has ever faced criminal prosecution. Meanwhile, the Sindh high court on Monday adjourned the hearing of Musharraf's petition for removing his name from the interior ministry's exit control List till November 22.
In his plea, Musharraf said he wants to go to Dubai to meet his ailing mother. Persons included in the exit control list are barred from travelling out of Pakistan. Since Musharraf returned to Pakistan from self-exile in March, he has faced prosecution in four major cases, including one over imposing emergency and subverting the Constitution in 2007.
Interior Minister Chaudhry Nisar Ali Khan on Sunday said the government decided to initiate treason proceedings against Musharraf under Article 6 of the Constitution in line with a judgement of the Supreme Court and a report submitted by an inquiry committee.The former president would have to be held accountable for violating the Constitution, Khan said. Musharraf has been given bail in four major cases against him, including one related to the 2007 assassination of former premier Benazir Bhutto.
Though analysts questioned the timing of the government's decision to put Musharraf on trial for treason, Khan said the federal investigation agency's committee had submitted its
inquiry report. The government decided to approach the chief justice to form the special court after studying this report, he said.
Khan said the chief justice will identify one judge from three provincial high courts to be included in the special court.
In a related development, Pakistan Federal Union of Journalists president Rana Muhammad Azeem submitted a petition in the supreme court seeking Musharraf's trial for treason. The petition said all army generals in service when Musharraf imposed emergency should be made party to the case.