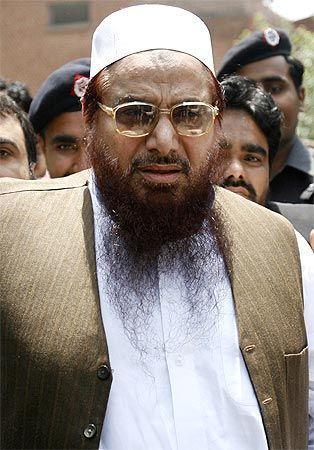 'Many in Pakistan were thinking about taking Mohammad Saeed from the Lashkar-e-Tayiba and making him the pole around which they would bring in and demilitarise militants and turn them into a political entity in Pakistan.'

Aziz Haniffa listens to startling revelations in Washington, DC.

Far from arresting Mohammad Saeed -- leader of the Pakistan-based Lashkar-e-Tayiba, which is funded and supported by the Inter-Services Intelligence and the patron of the conspiracy behind the 26/11 Mumbai terror attacks -- he is apparently being promoted by some elements in Pakistan to run for political office.

Tom Sanderson, co-director, Transnational Threats Project, Centre for Strategic and International Studies, and author of the report, Trends in Militancy Across South Asia: A Region on the Brink, which is the result of more than 15 months of field research by over a dozen experts, said this was one of the findings while he was in Pakistan.

"One of the things I heard in Lahore was that many in Pakistan were thinking about taking Saeed from the Lashkar-e-Tayiba and making him the pole around which they would bring in and demilitarise militants and turn them into a political entity in Pakistan," Sanderson said.

"People think that's very controversial, but I heard it a number of times from a number of different angles."

Sanderson's co-author, Stephanie Sanok, acting director, Homeland Security and Counterterrorism Programme, CSIS, said some of these militant groups had very effective political arms and "very viable political candidates."

Noting that "they are putting forward people who can talk at the local level and talk about local grievances and group identities," Sanok said interacting with the political arms of these groups "is not really a bad thing because you can learn a lot about what local grievances are through that arm of militant groups."

Lashkar has been designated a Foreign Terrorist Organisation
by the United States State Department. Sanok said the Diaspora question with regard to militant groups "when it comes to South Asia is a fascinating one."
"You'll find people of South Asian heritage around the world, whether they are in a guest-worker capacity, whether they are immigrants, but as with many moving populations, they have strong ties back to home," she explained.
"What we would like to look at is further research into what is the relationship -- how did these militant groups affect the Diaspora and again, how does the Diaspora affect the militant organisations."
"We've seen evidence of resource flows back into the region for good and for ill," Sanok added, "but this is an idea where focused attention into the role of the Diaspora and how it is affected by militant groups in South Asia is key."
Lieutenant General Michael Flynn, director of the Pentagon's Intelligence Agency, who launched the report, said, "Examining the laundry list of South Asian militant groups, two clear strengths of these groups emerge -- agility and inter-connectedness. Militant agility serves as an advantage against large stove-piped hierarchical organizations like the established security and political institutions in the region."
"Meanwhile, the growing overlap of violent extremists, criminals and State officials, enhances the potential impact of their operations," the general said.
"Here's the real kicker -- for all of us in the international security business, the resiliency and protection these groups gain from integration, creates challenges for military, intelligence and law enforcement responses," General Flynn added.
John Hamre, president and chief executive officer, CSIS, and an erstwhile deputy secretary of defence, in welcoming participants a day after the Boston Marathon terrorist bombing, said "It was a bad day. But there are families and communities in homes and cities throughout South Asia that experience these days every day and they have been going on non-stop. It has been an outstanding thing to watch this region being torn apart by people who think they are trying to save this region."