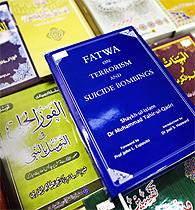 The Research and Analysis Wing has access to information that indicates a link between the Lashkar-e-Tayiba and the Tsarnaev brothers, who carried out the Boston bombing in April this year.
Investigations have revealed that the Tsarnaev brothers may have been trained at terror camps run in Chechnya by LeT militants.
Rediff.com has in its possession a dossier by the Intelligence Bureau which tracks the LeT's activities after the 26/11 terror strikes in Mumbai.
While the outfit maintained a low profile after the attacks, its cadres traveled to different parts of the world to hone their skills.
In the backdrop of the snooping programme undertaken by the National Security Agency in the United States, the dossier points out that a group of hackers working for Lashkar had infiltrated several online accounts and they had used the internet to set up bases across the world.
The LeT was initially set up by the Inter Services Intelligence to further the Pakistani spy agency's agenda in Kashmir. The local offshoot of the terror outfit is the Indian Mujahideen and the LeT has now set up units in Gulf nations to plan and carry out terror strikes.
After the 26/11 attacks, the LeT decided to tap into the huge potential offered by social networking sites by creating the Tehreek-e-Tahaffuz Qibla Awal, an online outfit meant to expand the terror outfit's activities.
Their social networking programme managed to recruit 50,000 workers between 2009 and 2012.
Today, the LeT has a staggering 2,800 training camps and 700 offices across the world, says the dossier, adding that the outfit has also set up hospitals, garment factories and colleges to cover up its nefarious activities. These institutions, behind a facade of philanthropy, act as fund collection points in Pakistan, India, Gulf, Iraq, Chechnya, Bosnia, Philippines, Somalia and Thailand.
The Tehreek-e-Tahaffuz Qibla Awal, meanwhile, reportedly helps the LeT as well as the Hizbul Mujahideen, Al Qaeda and the Harkat-ul-Jihad al-Islami. Along with recruitment, the outfit also passes on coded information about drug consignments and arms caches to the gang led by underworld don Dawood Ibrahim.
According to strategic expert Ashley J Tellis from the Carnegie Endowment for International Peace, the LeT is an "effective terrorist group which is capable of exploiting technology, social links and state vulnerabilities in order to advance its aims and objectives".
According to the IB dossier, which has several inputs from American probe agencies, a core team of the LeT operates online with pseudo handles.
When these hackers feel that investigators are closing in on them, they go off the radar and break up into splinter groups to avoid detection.
Till now, the Lashkar has managed to outsmart all online security agencies, necessitating the practice of furtive cyber snooping, says the IB dossier.