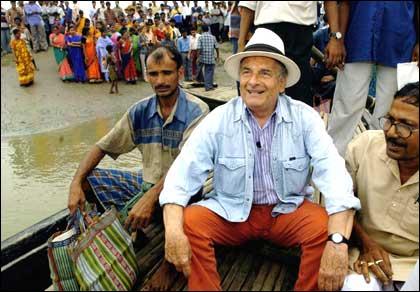 French author Dominique Lapierre dedicated to destitute Indian children on Monday, the Bodhoday Vidya Mandir School, which was financed by royalties earned from the sale of his books and donations from readers.
The celebrated French author has special interest in India and his two books "City of Joy" and "It was five past midnight in Bhopal" (It etait minuit cinq a Bhopal) are much acclaimed.
When 'City of Joy' sold copies in lakhs, Lapierre decided to set up City of Joy Foundation, which gets all the royalty from the sale of his books.
The foundation, till now, has aided thousands of citizens of Kolkata.
In 1992, film director Roland Joffe directed a the film City of Joy based on the French author's book, the film was critically acclaimed and had many Indian film stars in lead roles like Shabana Azmi, Om Puri and others.
Lapierre's book on Bhopal is a tribute to Bhopal Gas tragedy victims and with this book he launched a crusade-- getting justice for the survivors of the Bhopal gas tragedy.
French author Dominique Lapierre (C) sits on a country boat as he crosses a river to attend a dedication ceremony for a school at Parbakshi, Kolkata.
Photograph: Deshakalyan CHOWDHURY/AFP/Getty Images