Rashtriya Janata Dal president and fodder scam convict Lalu Prasad surrendered on Thursday before two special Central Bureau of Investigation courts on expiry of his provisional bail for treatment of various ailments, after which he was taken to the Birsa Munda Jail and then to a hospital for checkup.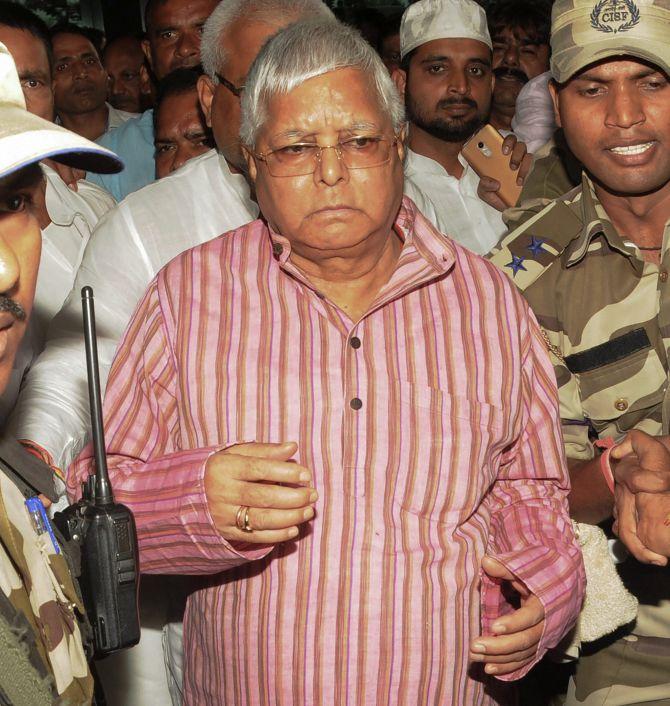 Prasad, who reached from Ranchi from Patna on Wednesday, had been directed by Jharkhand high court to surrender before the CBI courts by Thursday.
After his surrender before Judge S S Prasad in connection with fraudulent withdrawals from Chaibasa Treasury, Prasad's advocate Prabhat Kumar said his client had been suffering from various ailments.
The judge directed doctors of the Birsa Munda Jail, where he had been lodged following his conviction in December last year, to consult doctors who were treating Prasad.
The judge said Prasad can also be treated by Dr Umesh Prasad at the Rajendra Institute of Medical Science.
As the provisional bail was applied for three fodder scam cases, Prasad also surrendered before the court of M P Mishra in connection with the Deoghar and Dumka treasury cases.
Prasad has been convicted in four fodder scam cases, the first being on September 30, 2013.
After his surrender before S S Prasad's court, the former Bihar chief minister was taken to Birsa Munda Jail as per the procedure and then taken to RIMS here for a check up after being referred to it.
The Jharkhand high court had on August 24 refused to extend the provisional bail after Prasad's counsel Abhishek Manu Singhvi prayed for an extension for three months for treatment and medical care for anal abscess, kidney stone and enlarged prostate glands.
CBI counsel Rajiv Sinha had objected to the extension of provisional bail, saying he had already availed about 12 weeks for his treatment and required medicare was available at the RIMS as well.
After being sent to jail in December last year following his conviction in fodder scam cases, Prasad had spent a considerable time at RIMS Hospital and at the AIIMS in New Delhi for treatment of his various ailments.
He was also treated at the Mumbai hospital for three weeks and was discharged on August 25.
He had been released on six weeks' provisional bail on May 11 by Jharkhand high court for medical treatment, but was restrained from taking part in any public function, political activity or issuing statements to the media during the period.