India changed its stance towards Britain over Lalit Modi who has ED cases against him, and Vasundhara Raje, who gave the ruling BJP its most triumphant victory in Rajasthan, is in the dock for alleged nepotism. Aditi Phadnis reports.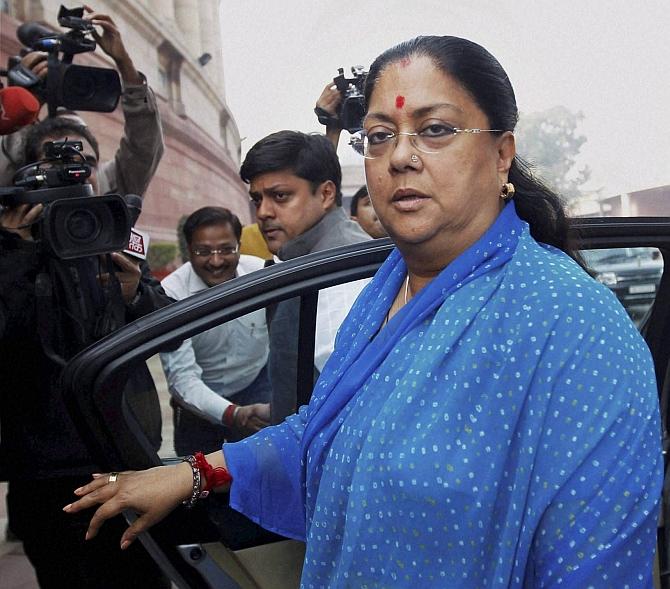 When Rajasthan Chief Minister and Finance Minister Vasundhara Raje presented her first budget ever in 2003, she read out a sher (a short poem): "Aandhiyon se keh do zara aukaat mein rahein/hum paron sey nahin, hausalon se uda karte hain (tell the storm to be in limits/we soar high on the strength of our conviction, not our wings)".
This could have been Raje describing herself then.
It was well known that she was a reluctant chief minister, sent to the Rajasthan badlands from her comfortable perch in the Prime Minister's Office during Atal Bihari Vajpayee's tenure, where she was a minister of state.
Bhairon Singh Shekhawat needed to be dislodged and the young, active idealistic MP was seen as the best choice.
She tried hard to shake things up in Rajasthan. But there is something in the politics of the state that saps initiative and leaches you of dynamism.
Although in 2003, she got 120 seats of 200 for the Bharatiya Janata Party and improved the tally by getting 163 of 200 seats in the 2013 elections, little had changed.
Manju Baghmar, who represents a reserved constituency in Nagaur, is one of the 163 MLAs from BJP.
She arrived in Jaipur seeking to meet the chief minister for some constituency-related work.
She waited in the CM's office from 11 am to 3 pm.
Finally, when she saw the CM emerging, she walked up to her.
The CM tried to be patient, but the impression Baghmar got was that she was really busy.
"I can't address individual problems of MLAs... bring a delegation and we will see what we can do," Raje said distractedly, as she proceeded to another meeting.
Baghmar tried to appear composed but finally broke down before a colleague.
"If Madam doesn't have time for us, who will listen?" she sobbed.
Raje is a busy person.
Managing 163 MLAs can't be easy: and who knows who might be plotting behind your back.
For her, it is just as well that the state president of the BJP, Ashok Parnami, is a first time MLA and a political lightweight; and the two men who could be a challenge to her -- Home Minister Gulab Chand Kataria and BJP Vice-President Om Mathur -- are at best factional leaders.
But a few from BJP are standing up for her in the midst of the Lalit Modi controversy.
The fact is Raje has set out trying to galvanise Rajasthan, but her work is obscured by the perception that she and Prime Minister Narendra Modi are competitors in some ways.
Who won the Lok Sabha and the assembly elections for the BJP in Rajasthan? She believes she did, even though the party did its best to sack her from the leadership of the Opposition previously.
The rest of the party thinks Narendra Modi did.
When he meets MLAs who say this, Modi doesn't really contest it.
Every fortnight, there is one report or another that BJP President Amit Shah is contemplating a reshuffle that could have ramifications for chief ministers. This has MLAs on tenterhooks.
The CM's work is not taken seriously because there is a perpetual question mark on her continuance.
During her previous term as chief minister, Raje had allowed herself to be swept away in the intoxication of victory.
This time, she has been wiser and more prudent.
Finance and infrastructure in Rajasthan are stabilising even though the much reviled populist projects launched by former CM Ashok Gehlot have been continued by the BJP government.
But the campaign against her is holding her back -- and demolishing the authority of her government.
For veterans in the BJP, it is a painful sight.
This is probably the reason a spectacular defeat in the panchayat elections followed a spectacular victory in Lok Sabha and assembly polls, all within a span of few months.
The Rashtriya Swayamsevak Sangh in Rajasthan, always seized with a persecution complex because every chief minister has tried to emasculate it, is the loudest in Vasundhara-bashing.
Their complaint: She is inaccessible and remote.
What is hard to understand is why BJP is so at odds with itself.
If Lalit Modi is a swindler and a thief, he should be brought back to India, the Enforcement Directorate set after him and the trial fast-tracked. But the overhang of the politics of the Board Of Control For Cricket In India has consumed the politics of BJP.
Workers are asking themselves: If Lalit Modi is a rotten person as alleged, why were two top leaders (Sushma Swaraj being the other) so kind to him? And if this is not so, and the previous government did him an injustice and he was a victim, why isn't the party coming out and saying so openly?
Two things have happened to add to the confusion.
India, a sovereign nation, changed its stance towards Britain over a person who has ED cases against him; and the woman who gave the BJP its most triumphant victory in a state is in the dock for alleged nepotism and corruption along with Modi.
This, when the Congress has only 44 MPs. And the BJP, 282.