Scores of Congress workers on Monday protested outside residence of External Affairs Minister Sushma Swaraj demanding her resignation for "extending help" to scam-tainted former Indian Premier League Commissioner Lalit Modi in procuring travel documents in the United Kingdom.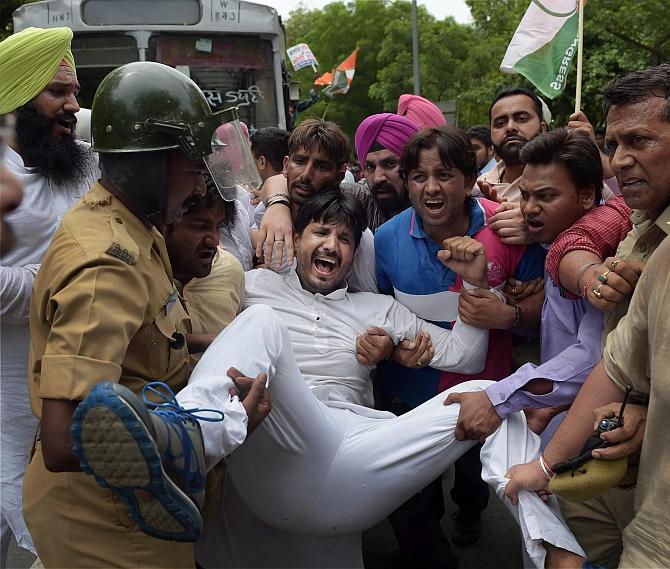 Shouting slogans and holding placards, the Congress workers demanded action against Swaraj and said she must quit or Prime Minister Narendra Modi should sack her immediately from the Union Cabinet. The protesters also burnt effigies of Swaraj.
Congress has been attacking Swaraj since Sunday after reports surfaced that she had written to British lawmaker Keith Vaz to allegedly recommend travel documents for Lalit Modi for visiting Portugal.
Swaraj has said she had written to Vaz on "humanitarian grounds" after Lalit Modi said his wife was ill.
Modi is wanted in India and has made London his home since 2010 to avoid a probe in the alleged betting and misappropriation of funds in the T20 cricket tournament.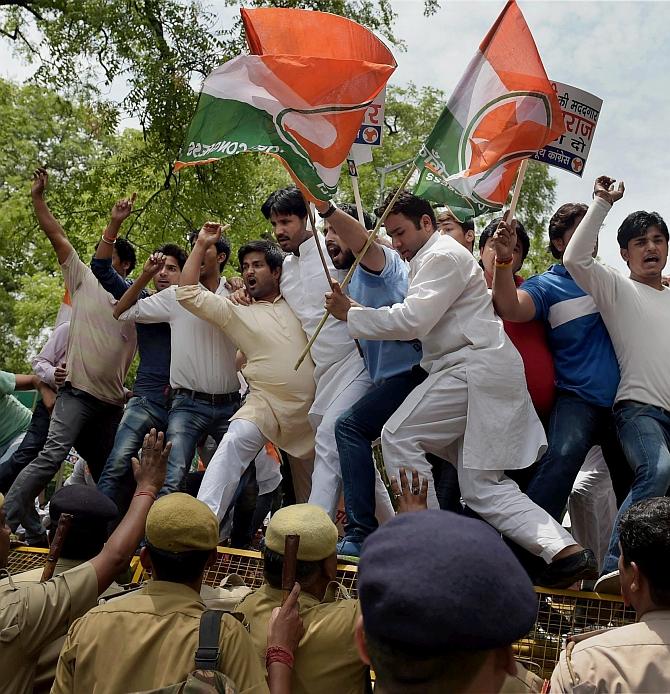 Some of the Congress protesters also broke barricades outside Swaraj's Safdarjung residence in posh Lutyens Bungalow Zone in central Delhi. Around 100 protesters were detained by the police and were later released.
Earlier in the day, Congress sharpened attack on Swaraj alleging there was "quid pro quo" involved in her "assistance" to Modi and demanded that the former IPL Commissioner be brought back and tried in India.
"There are circumstances which establish contact between Sushma Swaraj and Lalit Modi. As a quid pro quo, Sushma Swaraj has done favour to a tainted person who is accused of Rs 700 crore money laundering, tax evasion and several other charges," said Congress national spokesperson P L Punia.
Images: Youth Congress members being stopped by the police during their protest against union Minister Sushma Swaraj at her residence in New Delhi on Monday. Photographs: Manvender Vashist/PTI Photo