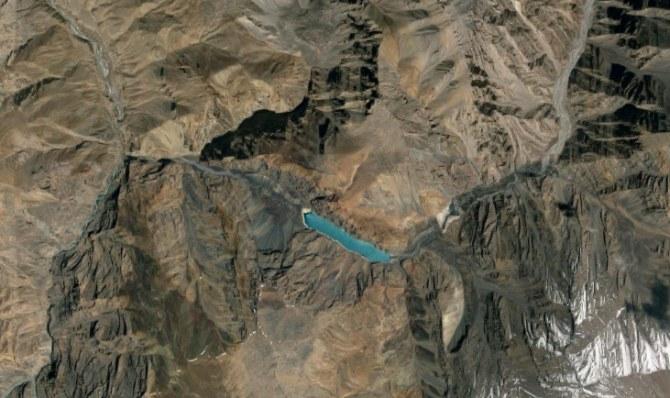 The lake was formed when a massive landslide blocked the Phutkal river last year. Photograph courtesy: Google Maps
A lake in Kargil district of Jammu and Kashmir burst on Thursday morning and caused flash floods in the area, prompting authorities to launch an evacuation operation in the affected villages, officials said.
"The artificial lake on river Phuktal, in Zanskar area of the frontier district, burst suddenly at 8:10 AM causing flash floods," Deputy Commissioner Kargil, Hassan Khan told PTI.
Khan said there were no reports of casualty but there was damage to infrastructure.
"About six bridges, including motorable ones, have been washed away but there are no immediate reports of any casualty," he said.
The deputy commissioner said the district administration issued an alert and advised people living near the banks of the river to move to safer places.
"There are around 2,000-3,000 inhabitants in the area and efforts are on to move them to safer places. The area is inaccessible but we are trying our best," he said.
On December 31 last year, Phuktal suffered a blockade by a massive 200 feet high landslide dam, equivalent to the height of a 20-storey building, leading to the creation of a lake extending more than 10 km.
The area falls enroute to the famous Chadar trek that attracts tourists from across the world and the Nimo-Bazgo hydroelectric project in the adjoining Leh district also gets water from Phuktal river.
Last month, the army claimed to have cleared the blockade of the river by creating a channel through the landslide area that facilitated the flow of water downstream.
"A 75-metre-long channel, 2-metres deep and 2-metres wide, was created by controlled blasting using 175 kg of explosive, over five days after which an artificial channel was created through the landslide area that facilitated flow of water to the downstream side. Water finally started gushing across the landslide in an uninterrupted manner from the lake formed," the army had said.
With Mukhtar Ahmad in Srinagar