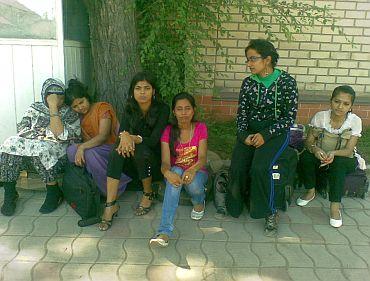 Troubles are not yet over for the 122 Indians, who were rescued from the violence-hit parts of southern Kyrgyzstan and brought to capital Bishkek late Monday night.
Even though clouds of fear have been cast away, the rescued Indian nationals are uncertain about how they would make the journey back home. The reason -- paucity of funds.
"We have been brought to Bishkek in extremely tense conditions. Over 100 students have no money to fly home and have been underfed for several days (since the violence broke out)," Dr Shaheer Khan, the official coordinator of Osh State University of Medical Faculty in Kyrgyzstan, told rediff.com..

The students had been in the midst of major incidents of violence, Dr Khan said, adding that some students had lost their cash and credit cards after their homes were ransacked.
According to students, the conditions in Jalalabad (near the Uzbekistan border) are far worse.

Amrit Das, a student living in Jalalabad, said: "Belligerent mobs opened fire in the streets at odd hours. Our Pakistani friends were attacked; our houses were burnt; and we lost our valuables."

Seven girls have lost their passports among other important documents, Das added.

The students have flocked the Indian embassy at Bishkek and are pleading to be sent back home. In the absence of vital documents like cards or cheque books, most students have been unable to get access to banks.

"Officials in the embassy have not responded to our request. They say they are helpless until they receive orders from the Indian government," Dr Khan said.

In volatile circumstances, the students are clueless about their stay in Bishkek.

"We spent the entire night on the roads with our luggage. The lodge arranged for us was over-capacitated. Now we have nowhere to go," said a student.

The Indian embassy has arranged a larger hostel for them and is providing them food as well as organizing passage on planes back to India, for which the students will have to pay.

Image: Indian students outside the embassy in Bishkek