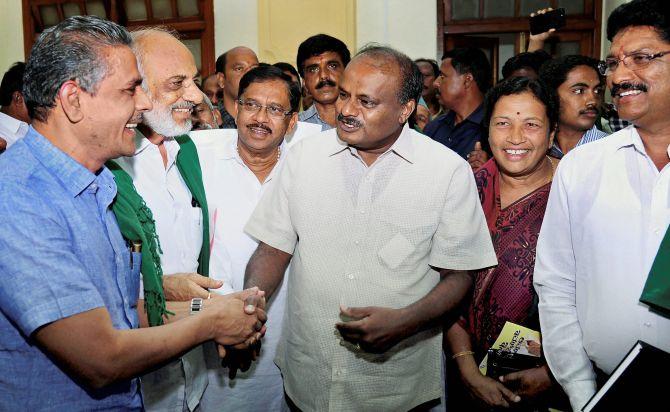 The Janata Dal-Secular-Congress government would arrive at a decision to implement a two-phase scheme for farm loan waiver within 15 days, Chief Minister H D Kumaraswamy said on Wednesday, even as Opposition and farmers' bodies stepped up pressure on him to fulfil his pre-poll promise.
Maintaining that there was no question of stepping back from his commitment, which has provided ammunition to the Bharatiya Janata Party to target the new coalition, Kumaraswamy said government would hand over debt-free certificates at farmers' doorsteps.
Speaking to reporters after a meeting with the farmers' representatives in Bengaluru, Kumaraswamy said he and deputy chief minister G Parameshwara would meet Congress president Rahul Gandhi and decide on the implementation of the scheme.
Kumaraswamy, under attack from the BJP over the alleged delay in fulfilling his pre-poll assurance to the farming community, met representatives of farmers groups and progressive peasants to discuss the problems faced by them.
In the run-up to the recently held assembly polls, Kumaraswamy had promised to waive farm loans up to Rs 53,000 crore borrowed from cooperative and nationalised banks within 24 hours of assuming office as chief minister.
"I am getting it (the loan amount) calculated, whatever thousand crore it is, saving you is our government's responsibility," he said, adding, the government would hand over debt-free certificates at the doorsteps of farmers.
He said government intends to waive loans in a phased manner and noted that the size of the state budget is Rs 2 lakh crore.
Under phase one, he said, the government would waive only the crop loan availed by small and marginal farmers.
"My government will not have any limits like Maharashtra, UP, Punjab and Andhra governments. ...we will waive whatever amount of loans farmers have availed," he said.
The waiver would be applicable to those farmers who had availed loans from the period of April 1, 2009 to December, 2017, Kumaraswamy said.
Under phase two of the scheme, the government would address the issue of waiver of loans availed from scheduled commercial banks located in non-city corporation areas, the chief minister said.
Kumaraswamy said he would appoint a nodal officer in every district for collecting details of loans availed for scrutiny and thereafter, the government would decide on beneficiaries of loan waiver.
"We will give 15 days time to debtors to submit details to nodal officers and thereafter we will cross check the details furnished and accordingly waive the loans of eligible debtors, because the money should not be misused. It should reach farmers, not the middlemen. There is no politics in it," he said.
In next two to three days, Kumaraswamy said, he along with Deputy Chief Minister G Parameshwara would call a meeting of nationalised banks represented by their general managers and chairman to gather information on loans.
"We will discuss the possibility of waiving interest rate on the principal amount availed, we will also discuss the possibility of repayment of loans phase wise under 'One Time Settlement' scheme," he said.
Kumaraswamy asked farmers to give in writing the suggestions on whether to include those in the scheme, who had availed loans in the name of agriculture and misused it for their businesses.
He also asked whether to include those who have been paying Rs 4 lakh income tax for last three years.
"Should we also include politicians, MLAs, MLCs and MPs, cooperative bank office-bearers, who had availed loans," he asked.
The chief minister had recently said he was committed to waiving farm loans or else would retire from politics, and asked people not to fall prey to the 'BJP's conspiracy'.
The BJP had called a statewide bandh on Monday to protest the "failure" of the chief minister to honour his farm loan waiver promise within 24 hours of coming to power, but it had evoked a lukewarm response.
Kumaraswamy, who had made the promise in the run up to the elections, later sought time, saying since he was heading a coalition government with the Congress he would have to consult the alliance partner before taking a decision.
He had also said he would have to take into account the financial condition of the state.
"We will come to a decision in 15 days. In 15 days, it will get completely implemented. ...Whatever may be the difficulty, our government is committed to maintaining fiscal discipline, and also saving you (farmers)," Kumaraswamy told the meeting after listening to farmers for about three hours.
Questioning Kumaraswamy's stand, BJP's Karnataka unit chief B S Yeddyurappa threatened to launch a stir against the state government accusing him of betraying farmers on the farm waiver loan issue.
Yeddyurappa, the leader of opposition in the state assembly, asked, "Is he playing political drama?"