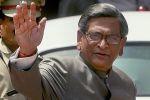 Neatly dressed, the outgoing Minister of External Affairs S M Krishna held his composure as he met media persons in his house on Tyagraj marg in the capital on Saturday morning.
He met with journalists individually and shook hands before addressing a group of journalists.
 "Take it easy," said a journalist to Krishna, to which he smiled and replied, "Yes, I will."
"Many of you suffered me, and with a smile," he said. 
Krishna didn't appear anxious by the decision to quit from the Cabinet post. He explained he chose to resign as he felt that the young should take reins of responsibility.
The final decision was his entirely, he said, adding, "My wife was also a part of the decision."
For most of the announcements on Saturday, Krishna sounded politically correct. "I had called the prime minister for the kind of support he extended to MEA," Krishna said. "I have resigned from my post at the ministry of external affairs. The idea is that I felt it was time up for me, and I should make way or the younger class to take up," he said  
Krishna grew pensive at times and said, "The ministry of external affairs requires important attributes such as experience, patience and be perseverance."
S M Krishna stayed in the MEA for three years and four months. He briefly reflected on how the ministry under him had dealt with our immediate neighbours.
"Nobody can claim that issues have been restored but statesmanship lies in the fact how well you manage issues that confront you all the time," he said.
"But even with the border issue with China, it not affect our overall relationship," Krishna opined.
He said that India's relationship with Pakistan had also improved in the past few years. "I made two trips to Islamabad, and Hina Rabbani (foreign minister of pakistan) had also come to India." 
"These two countries (China and Pakistan) are the classic examples where India's relations have always clashed, and I feel we have improved our overall relationships with these countries," Krishna said. 
"Today I can say with conviction that the relationship with these two countries is manageable, and I hope my successors take it forward."
Similarly, Krishna cited that India's relation with the European Union, United States, BRICS have also improved, and today there is a greater understanding with all these countries than ever before
"I have very good relations with Hina Rabbani, and Hillary Clinton (US secretary of State) and we understand each other," Krishna said.
He also said India in this period has been able to "revive the Indian Ocean Rim-Association for regional Co-operation, and hosted two important India-Africa forum Summit level meetings".
Krishna, however, refrained from talking about India's relations with another neighbor, Sri Lanka. "Sri Lanka is a complex issue," he said. Similarly, he said that SAARC and the Look East Policy will take time to produce results.
He bid adieu to the media as the minister of external affairs, and among other things said he had brought transparency to the workings of the ministry, and granted "a level playing field to all eligible companies interested in bidding for projects undertaken by the ministry".
"I brought transparency, much to the irritation of many of colleagues," he said. 
Krishna, however, did not talk about what his role would now be in Karnataka state politics. Even though, many Kannada news channels hovered around a little longer to speak to the minister.