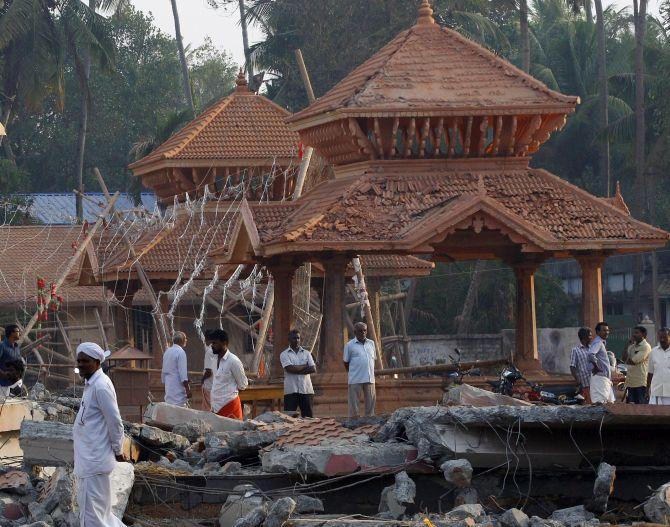 Thirteen persons, including members of the managing committee of the Puttingal Devi Temple, were on Tuesday arrested in connection with the fireworks mishap in which 110 people have died, police said.
The arrested included seven members of the managing committee and six workers of the two contractors, who carried out the fireworks display on the final day of the seven-day long festival early Sunday.
The arrests were made by the police after day-long questioning, sources said.
While temple trust president, Jayalal, secretary, J Krishnankutty, Shivaprasad, Surendran Pillai, Ravindran Pillai, surrendered before the Crime Branch police, two others -- Surendranathan Pillai and Murugesan -- were picked up by police on Tuesday morning.
Police said, "They are being questioned" and a case had been registered against at least 20 persons, including the managing committee members and contractors of the fireworks display that went awry on early Sunday.
The authorities of the 100-year old Devi temple had gone absconding soon after the ghastly tragedy, that also left more than 350 people injured.
The Crime Branch had registered a case under Section 307 of the Indian Penal Code (attempt to murder), 308 (attempt to commit culpable homicide) of the IPC and under section 4 of Explosives Substances Act in connection with the accident.
Gross violation of norms and use of banned chemicals led to the Puttingal tragedy, a top explosives official had said on Monday as a case of attempt to murder was filed against six persons, including temple officials.
The Kerala high court will hear the plea for a ban on cracker bursting and fireworks display in temple functions later on Tuesday afternoon.
The accident at the 100-year-old Puttingal Devi Temple complex occurred during an unauthorised display of fireworks early Sunday morning after a spark from a firecracker fell on the storehouse containing crackers, triggering explosions.
Meanwhile, another victim of the tragedy died on Tuesday bringing the toll up to 110.
Satyan, who was undergoing treatment for injuries suffered in Sunday's accident, died at the Thiruvananthapuram Medical College Hospital, an official release said.
He was in a critical condition and had been on ventilator support before the end came this morning.
The condition of 26 other injured persons, including seven in TMCH, continues to be serious. Around 350 persons were undergoing treatment at various hospitals.
A total of 1,039 persons have been treated as outpatient in various hospitals in Kollam and Thiruvananthapuram, according to Chief Minister Oommen Chandy.
Image: People check out the damaged structure after a massive fire broke out Sunday during a fireworks display at the Puttingal temple complex in Paravoor village, Kollam. Photograph: PTI