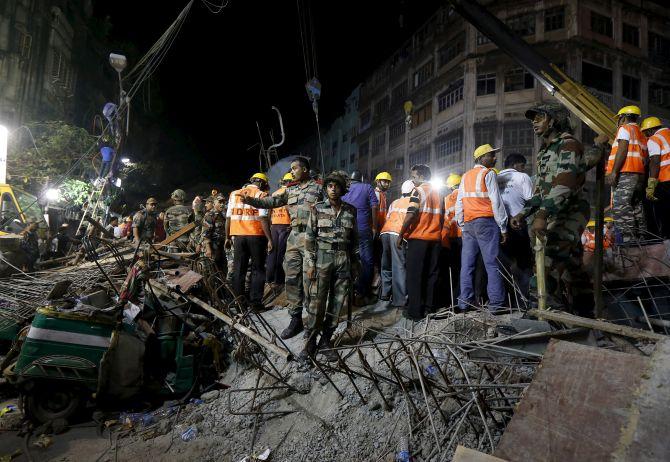 Five officials of the Hyderabad-based IVRCL construction firm were detained on Friday in connection with Thursday's flyover collapse in the city even as three more bodies were pulled out of the debris taking the toll to 25.
The police had on Thursday registered a case against the construction firm under Sections 304, 308 and 407 of the Indian Penal Code and sealed its local office.
A day after an official of IVRCL dubbed the flyover collapse as an 'act of God', its legal team head P Sita said, "It is an accident."
She also did not rule out sabotage and referred to a media report which said there could have been a bomb blast.
"An act of God was just an expression only to describe that it is under no one's control," she told reporters in Hyderabad.
Showing a photograph of the mishap site published in a newspaper, she said that it looked like a site of bomb blast. There were various aspects which should be looked into.
Sita also claimed, "...100 per cent no issues with regard to quality. It is the same material, as was used to construct the 59 sections earlier with approval, with which the 60th section (which collapsed) was built ... Unfortunately it collapsed."
"IVRCL will cooperate with all the authorities in investigating this accident. We are trying to ascertain the reasons for the occurrence of this accident. We have asked all our officials concerned to be available with the investigating authorities," she said.
Around 90 people were injured in the collapse and the condition of seven of them was stated to be 'very critical'.
Agencies engaged in rescue work said that there was a possibility of a person being trapped inside a truck which is still under a girder.
Armymen along with Kolkata Police, disaster management team, the National Disaster Response Force and fire brigade personnel engaged in rescue work throughout the night, pulled out three more bodies from under the rubble of concrete, a police officer said on Friday.
"Nobody alive has been rescued... Two mangled autorickshaws apart from a few other vehicles have been pulled out. One lorry is still stuck inside... Whether there is anybody trapped inside cannot be certain," he said.
About a 60-metre-long stretch of the 2.2 km flyover under construction crashed down on afternoon on a congested road intersection in Kolkata. Forensic experts visited the site and collected samples of materials used for the construction for examination.
Meanwhile, a four-member police team from West Bengal reached Hyderabad during the day as part of its probe to question officials of IVRCL after the flyover it was constructing collapsed in Kolkata.
The West Bengal government has already ordered a high-level probe into the incident that triggered a blame game with the Opposition accusing the Mamata Banerjee government of callousness.
A senior police officer said, "The main road crossing near Ganesh Talkies would hopefully be cleared by tomorrow. But the rest like the iron piers, iron pillars, broken concrete parts will be cleared in a step-by-step process."
"It's a very very congested area with buildings so close to the flyover. And most of the buildings are very old. So we must keep in mind that in order to remove the damaged portions of the flyover another mishap does not take place," he said.
Image: Firefighters and rescue workers search for victims at the site of an under-construction flyover after it collapsed in Kolkata on Thursday. Photograph: Rupak De Chowdhuri/Reuters