Another accused in the hit-and-run case which took a young IAF corporal's life was on Tuesday arrested by the Kolkata Police from the port area of the city.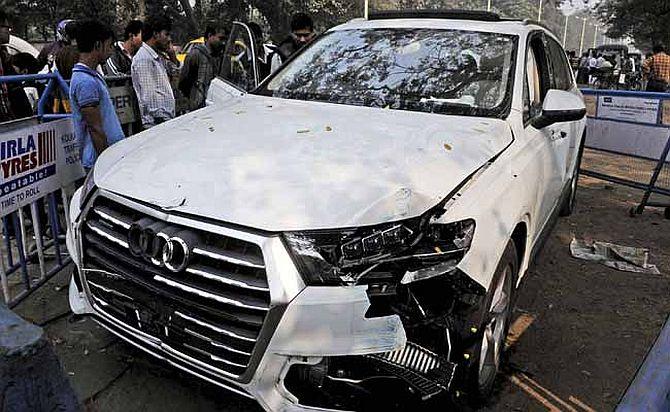 "Johny was arrested from a house in the Port Area by our sleuths this morning. He was not traceable since the January 13 incident," Joint CP, Crime, Debashis Boral said in Kolkata.
While the second accused Sonu was arrested from Delhi early Monday, the main accused Sambia Sohrab was arrested on Saturday from Beckbagan area of the city.
Both Sonu and Johny were alleged accomplices of Sambia whose Audi allegedly mowed down the young IAF officer during Republic Day Parade rehearsal.
The police are now planning to interrogate the trio to reconstruct the events, the officer said.
Johny was stated to be in Jharkhand after the incident but then came back to the city as a KP team was on his trail.
He was then holed up in a known person's house in Port area and city police was tipped off by a 'source'.
Boral said it was still being ascertained whether he was travelling in the same car driven by Sambia or trailing the Audi in another car.
Johny had circulated a clip in a local channel, where it was claimed that Sambia alone was driving the vehicle and he and Sonu were in another car, according to police sources.
He had also claimed in the same video that Sambia and others had a booze party at Doighat the previous night (January 12 midnight) and Sambia was drunk and took to the wheels of Audi after the drinking session, the sources said.
On Monday, Sonu alias Shanwaz Khan was arrested from his maternal uncle's house in Delhi by a Kolkata Police team, while Sambia was picked up from near his in-law's place in Park Circus-Beckbagan area on Saturday last.
The 21-year-old Corporal was knocked down and killed after being hit by the car during the rehearsal parade on the Red Road.
The car broke three guard rails and barged into the parade before fatally hitting the IAF officer.