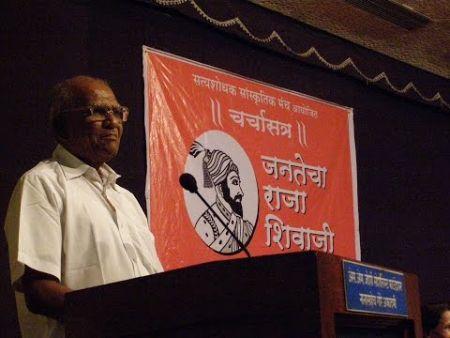 CPI leader says the attack is a conspiracy by communal forces to hush up those who have shown courage to stand up to them. Neeta Kolhatkar reports for Rediff.com
Senior Communist Party of India leader Govind Pansare and his wife Uma are battling for their lives after being shot at by unknown assailants outside their home in the Sagarmala area in Kolhapur on Monday morning.
The incident occurred around 8.30 am when the couple were returning from their morning walk.
As they approached their home at the Ideal Housing Society two unidentified men fired upon them. Govind Pansare was hit by bullets on his neck and in his chest while his wife Uma was shot in the arm.
The couple have been admitted to the Aadhar hospital.
Govind Pansare's condition is said to be critical, and the couple underwent surgery. A CT scan shows a bullet lodged in his chest.
Pansare has been a vocal campaigner against the road-toll tax. Some media reports indicate that he could have been attacked by business interests. CPI leader Prakash Reddy refuted this, saying communal forces are trying to divert public attention.
Anti-superstition activist Dr Narendra Dabholkar was attacked in a similar way in August 2013 in Pune. Dr Dabholkar died on the spot.
Maharashtra Chief Minister Devendra Fadnavis condemned the attack and promised immediate action. Ten teams have been deployed to arrest the couple's attackers.
Just two days ago, Pansare had at a public forum said 'Nakotya goshtincha jayjaykar kela jaat ahe. Eka marekari cha jayjaykar kela jatoy hey desha sathi changla nahi (Issues of no importance are being hailed. This is not good for the nation).'
The attack, Reddy alleged, is a "conspiracy by communal and divisive forces to murder and hush up those who have shown courage to stand up to them."
"Pansare recently said people who killed Gandhiji are heading the government, which is not good for the country," Reddy added.
Reacting to the attack on the Pansares, Nationalist Congress Party chief Sharad Pawar said, 'It is sad that progressives like Dabholkar and Pansare are being attacked in a progressive state like Maharashtra. There needs to be a thorough investigation.'
Image: Senior CPI leader Govind Pansare.