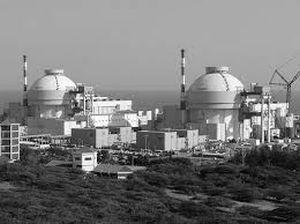 The first 1,000 MWe unit of Kudankulam Nuclear Power Project is expected to start its commercial operation at midnight, a senior official said.
"The first unit of KNPP would go for commercial operation tonight at 00.00 hrs exactly," KNPP Station Director R S Sundar told PTI.
Though the unit has been running at full capacity of 1,000 MW since last ten days, the commercial operation would get KNPP better tariff from the grid, he said.
Sundar told reporters at Madurai that continuous generation of power from the unit during the trial period was over, and the Director (Operations), Nuclear Power Corporation of India, had permitted commercial production of power from midnight tonight.
In July last year, the first unit attained criticality and has been generating power and connected to the southern grid.