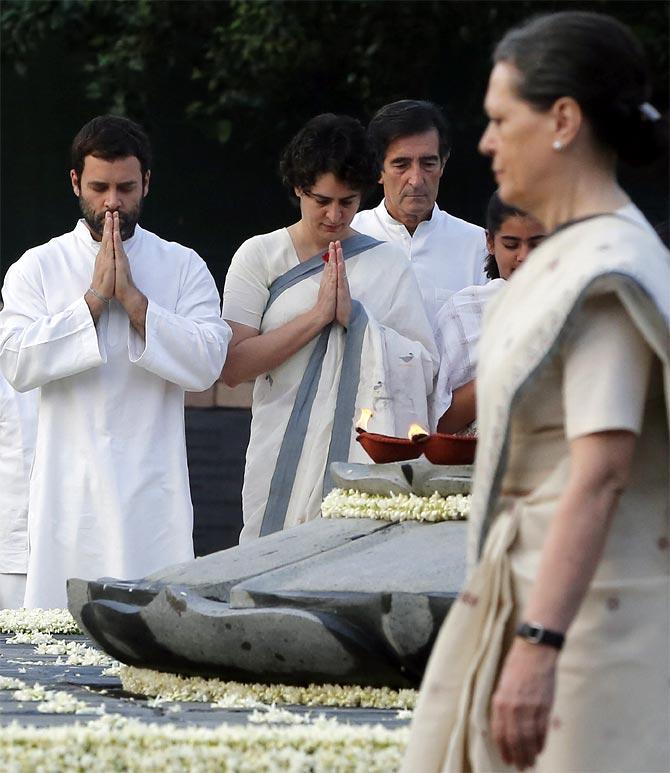 'She is tough. She can be stern. She can be unpleasant. Rajiv was none of these things.'
'The Congress cannot survive without the Gandhi family. If Sonia were to quit, their Lok Sabha seats would drop from 44 to four.'
K Natwar Singh shares his bitterness about the Nehru family with Rashme Sehgal.
An embittered K Natwar Singh has hit out against Congress President Sonia Gandhi in his autobiography One Life Is Not Enough.
A loyalist of the Nehru family for over four decades, Singh enjoyed the confidence of then prime ministers Indira Gandhi and Rajiv Gandhi. This proximity spilled over to Sonia Gandhi, but he was sidelined when the Iraqi Oil-for-Food controversy broke out in 2005.
Singh hastens to explain that unlike Sanjay Baru's book An Accidental Prime Minister his rendering of the workings of the upper echelons of India's elite remains an insider's account. When asked why he had not revealed these details eight years ago, he claims, "the book would have got suppressed -- six years ago no one was willing to publish even my articles."
What is especially pleasing for Singh is that the book has within a fortnight of its release sold over 60,000 copies.
Natwar Singh spoke to Rashme Sehgal.
Congress leader Digivijaya Singh recently told a news channel that he did not believe that either Sonia Gandhi and Priyanka Vadra had paid you a visit especially since there was little they could do to alter an already completed manuscript?
Why don't you ask them (Sonia and Priyanka) whether they visited me or not? Sonia cannot go to any part of India incognito. She is the best known face in the country. Now if she comes to my house with ten commandos and full security is it possible that people will not know in Jorbagh.
,p>The whole of Jorbagh knew. I did not go around telling anyone. I wish Digivijaya Singh well and hope he becomes prime minister some day.
Did Priyanka and Sonia contact you earlier?
Priyanka had been in touch with me. On April 28, when my interview regarding my autobiography appeared in the Economic Times, the interviewer had asked me 'You must be feeling very bitter'. I replied I am not bitter, but I'll write the truth. Suman Dubey rang me up and asked me to meet Sonia. I replied that I have no reason to see her.
On May 6, Priyanka rang me up to ask if she could see me. I told her to come and meet me tomorrow and have a cup of coffee which she did. We talked about her kids, Amethi, Rae Bareli and her disinclination to join politics.
She is an extremely attractive person, a very good communicator and she relates to people. She said her mother had sent her to meet me and then 10, 15 minutes later Sonia arrived in a separate car. Sonia sat for 15 minutes and then left saying she had to go for a campaign.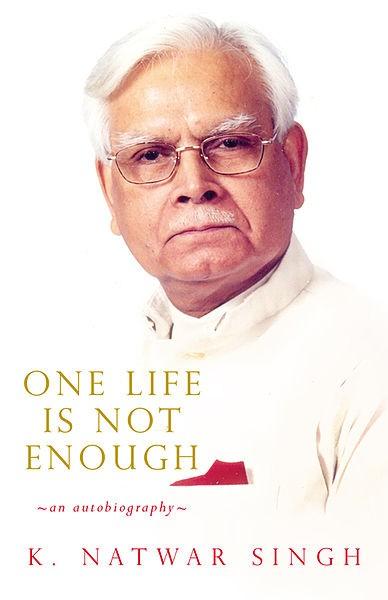 Why did Priyanka and Sonia come to meet you?
Priyanka made no direct attribute to my book. She asked if I had written about a particular incident. I told her I would not hit below the belt, but certain proprieties cannot be ignored. (He refuses to elaborate on what that incident was.)
Was it something to do with the Volcker controversy or was it some incident regarding the family?
The question is why did Sonia react? Justice R S Pathak had exonerated me on the Oil-for-Food controversy. The Volcker report mentioned the Congress party. Why didn't they do a follow up on that? My son's name was not in the report. They dragged him in and took away his passport.
I was outraged and astonished. Sonia had once told me 'You were my closest friend. I talk about matters with you that I have not mentioned to Priyanka and Rahul.' I've been exonerated, but nevertheless I must admit I was surprised by her decision to come to my house.
Was her decision to sideline you influenced by her coterie? After all there were people who resented your closeness to Sonia?
This is a decision that only she can take and took.
Did you ever try and approach her in all these years?
The Congress party has also been a beneficiary of the oil-for-food programme?
For eight-and-a-half years there has been no contact between Sonia Gandhi and me. Virender Dayal (the former under secretary-general of the United Nations was appointed by the Indian government as special envoy to liaise with the Volcker committee) went to New York (on November 7, 2005) and met Paul Volcker. He returned to India (November 17) with several thousand relevant documents regarding the involvement of the Indians named in the report which were submitted to the Enforcement Directorate.
These documents have not been made public. An RTI was done to make them public. We went to the court. So why are they not being made public? After all, in the Volcker report, the Congress party has been mentioned.
My name comes in the fourth report. Not in the first, the second or the third but the fourth. Our ambassador in Baghdad wrote a letter on January 28, 2004 to the foreign secretary in which he quoted an Arabic newspaper Al-Naida and the Pakistani paper Jang. His report said the Congress party had been dealing with the Saddam Hussein government regarding the food-for-oil programme. This has not been contradicted.
Why was the UPA (United Progressive Alliance) reluctant to reveal the contents of these documents?

These facts will be revealed by future historians in the years to come?
I'm afraid not. They are saying the documents are lost. Where did they get lost, how did they get lost -- I don't know. History will not know. The government should show them to the public, but has not done so.
We come from a tradition where in the past our leaders have been treated with kid gloves. But you have not hesitated to call Sonia 'Machiavellian' and 'arrogant'. Were you aware of these qualities latent in her when you were close to her or did she develop these attributes after the UPA government came to power?
Why did the Congress do so badly in the 2014 elections? To how many people is Sonia accessible? The words I have used are not (from) my imagination. Manmohan Singh would not have had the courage to touch me without Sonia's approval. She didn't even wait for me to return to India. I was in Russia where I had gone for talks.
I stopped in Frankfurt when (India's then permanent representative to the UN) Nirupam Sen informed me that the Volcker report carried my name. The next morning Congress spokesperson Ambika Soni said the Congress is clean and Natwar Singh can take care of himself. She could not have said it without Sonia's approval.
Are you trying to say you became the fall guy?
They treated me like dirt. Put the ED (Enforcement Directorate) on me. Took my son's passport away, put bugs into my house. What they were trying to say is that we will fix you. Six people came to see me during that period. A Supreme Court lawyer who told me he would take up my case without payment. I told him that I had never met you in my life and so no thank you.
Another man arrived from Jhajjar who said he was a great admirer of mine and wanted to see my horoscope. I said no thank you. Next two individuals, claiming to be lecturers from the Delhi University, arrived. They were all sent by the intelligence agencies.
This was followed by a sadhu and sadhvi in orange robes. Give us Rs 1 crore and we will do a special havan and puja that will make everything alright. I told them I did not have that kind of money.
The media hounded me during that period. Sau crore kha gaya hai (He has eaten 100 crores). If I had been a soft character, I would have collapsed.
On November 8, (following the release of the Volcker report) I went to meet Manmohan Singh who told me to go and meet Sonia. I was very upset and informed him, 'Manmohan, in my veins flows the blood of my ancestors. We fought the Mughals, we fought the British, now we are fighting you. When my honour and integrity are questioned, there is no question of a compromise.'
Why do you think Manmohan Singh met Volcker twice?
They are old friends. I don't attribute any motive to their meeting. One hundred countries were mentioned in that report. Several presidents, prime ministers, deputy prime ministers and ministers from all over world have been mentioned in the report. No country took notice of this report except India. It's very sad. The Government of India and its most important leader should stoop to this level.
Your book described Manmohan as spineless.
He is. UPA-1 did well and Manmohan Singh thought he had won the elections and not anybody else which was an illusion. No one will give him five votes. In his election rallies, there are more empty chairs than human beings.
UPA-2 saw Rahul Gandhi tear up his order on television and call it rubbish and then go on to throw it into the waste paper basket. Any self respecting man would have resigned, but he (Manmohan Singh) said why should I resign.
Was he the wrong choice?
I don't think so. He had been a brilliant finance minister, an outstanding deputy chairman of the Planning Commission. He is non-adversarial. UPA-1 functioned well, the economy improved, its graph kept going up. UPA-2 was scam ridden -- there was the coal scam, the 2G scam, the Commonwealth Games scam all happening under his nose. Why didn't he sack his coal minister when the scam first surfaced?
During your book launch Professor Dipankar Gupta specially raised the issue about the difference between being a loyalist and a friend. You were a loyalist of the Gandhi parivar, but could you describe yourself as having been their friend?
Being loyal is a two-way traffic. Rajiv Gandhi would not have treated me in this way. Indira Gandhi would not have treated me this way. Our traditions are to respect people older than you. I believe that it is possible to be both loyal and a friend.
Is there something about dynasties which leaves them extremely insecure? Do you think we need to move away from them in India now?
People forget this is an elected dynasty. Jawaharlal Nehru was elected. Indira Gandhi was elected, Rajiv Gandhi was elected, Sonia Gandhi was elected and Rahul Gandhi has been elected. Now they can't go back and tell their voters 'Don't vote for us.' They have won by huge majorities. So, the dynasty argument does not go very far.
What you are saying is very well but your own book highlights how Rajiv Gandhi was foolish in agreeing to move the Indian Peace Keeping Force into Sri Lanka and also that he had no prior information about Operation Brass-tacks ?
Sri Lanka was a tragedy for Rajiv and it cost him his life. But nobody mentions Rajiv's China visit. It was a triumph. It was due to Rajiv that the Sino-Indian border has remained peaceful for 24 years. Rajiv was a gracious, wonderful, large-hearted man.
Sonia is a better politician. She is tough. She can be stern. She can be unpleasant. Rajiv was none of these things. I wept when he died.
After Sanjay Gandhi's death I mentioned to him that he should join politics to help his mother. He replied, 'I am not Sanjay. I am not interested in politics and I have very little money.'
Why do you feel Priyanka is unwilling to join politics?
What will happen to Rahul Gandhi (if she enters politics)? They are a very close knit family and take all decisions jointly.
Do you think it is the end of the road for the Congress party?
The coming state elections will throw light on that. All I can say is that we need a strong Congress party and a strong Opposition.
The Congress cannot survive without the Gandhi family. If Sonia were to quit, their Lok Sabha seats would drop from 44 to four.
Image: Congress President Sonia Gandhi with son Rahul and daughter Priyanka. Photograph: Adnan Abidi/Reuters