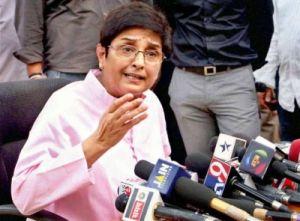 Bharatiya Janata Party's Chief Ministerial nominee Kiran Bedi on Tuesday dodged AAP Chief Arvind Kejriwal's challenge for an open debate on crucial issues facing the city while Congress' Ajay Maken expressed readiness for such a "healthy" exercise in the run up to the assembly polls.
Throwing the challenge to Bedi, Kejriwal said such a debate will be a "good initiative" as people will know about plans and policies of the two main parties for the city which will help them in understanding various issues.
Bedi, 65, who had joined BJP last week and was named its chief ministerial nominee last night, said she "accepted" the challenge but will only debate with him on the floor of Delhi Assembly and not during the campaign.
"I accept the challenge. I will do it in the Assembly and before that I am focusing on delivery rather than on debates because that's what he's been doing. He's only been debating. What I am doing is delivery of goals, services, programmes," said Bedi.
When told that Congress' Maken has also welcomed the move, Bedi, who will contest from BJP's traditional stronghold of Krishna Nagar in East Delhi, retorted, "While they are into drama, I am focused on work. These two have been indulging in drama. They have been doing it together also. I am focusing on work at this point."
Earlier, Kejriwal, who had worked with Bedi as part of Anna Hazare's Jan Lokpal movement before they parted ways, said both the leaders can debate on "concrete issues" for 1-2 hours.
"It will be a good initiative for democracy if there is a debate between us on different issues. People vote in the name of religion and caste. They are not aware of the issues. The debate of around 1-2 hours should be on concrete issues," Kejriwal said.
Responding to Kejriwal's suggestion, Congress' face for Delhi polls Maken said he was ready for a "structured debate" with leaders of rival political parties.
"This will be a healthy tradition. I believe a structured debate should take place in a mutually accepted TV channel or agency moderated by a mutually accepted anchor," he said.
Maken, who is also the party's Campaign Committee Chief, said a debate will enable the leadership of various parties to spell out their vision to the public by answering difficult questions.
"I think this is the best way for the leadership to answer difficult questions that are raised and spell out their vision to the public in the age of Internet and social media," he said, adding that at least "2-4 such debates" should be held.
Through a tweet, tagging both Kejriwal and Bedi, Maken said, ""Great! I am ready for a structured debate. Let people of Delhi make a comparative assessment." The AAP said Bedi's refusal to participate in the debate shows that BJP is "scared of the culture of debate in a democracy". "Yesterday she said that she is ready for an open debate then why did she turn from her earlier opinion today. People of Delhi want to know her views on full statehood, on women wearing jeans, women producing four children etc before polls," said AAP spokesperson Atishi Marlena.
Kejriwal, known for his active social media presence, also requested Bedi to "unblock" him on microblogging site twitter. He tweeted, "@thekiranbedi Kiranji, I used to follow u on twitter. Now, u have blocked me on twitter. Kindly unblock me."
Terming Kejriwal's twitter account as a "polluting" one, Bedi hit back at Kejriwal, saying that she blocked him more than a year ago as he was "spreading negativity". "I blocked him 15 months back when he called himself an anarchist. He was spreading negativity. Didn't want my four million followers to see negativity," said Bedi.