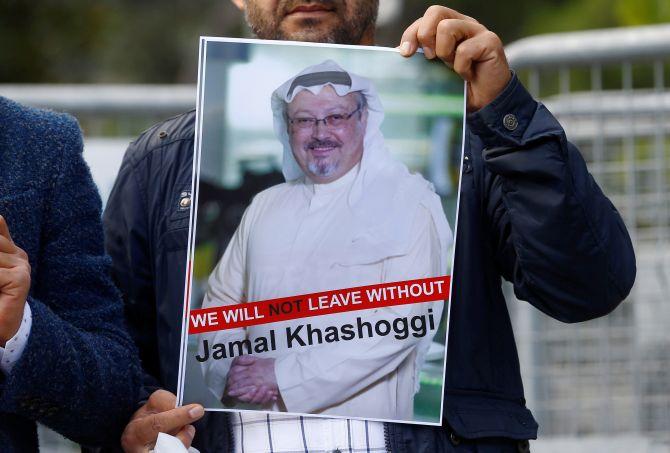 A Turkish prosecutor on Wednesday said that Saudi journalist Jamal Khashoggi was strangled as soon as he entered the Saudi Consulate in Istanbul as part of a premeditated killing, and his body was "dismembered and destroyed".
"In accordance with plans made in advance, the victim, Jamal Khashoggi, was strangled to death immediately after entering the Consulate General of Saudi Arabia in Istanbul on October 2, 2018 for marriage formalities," said a statement from the office of Istanbul chief prosecutor Irfan Fidan.
"The victim's body was dismembered and destroyed following his death by suffocation -- again, in line with advance plans," it added.
The revelations came just hours after Saudi Arabia's chief prosecutor left Istanbul, and the Turkish prosecutor's office said it was "obliged" to reveal the details after the talks produced "no concrete results".
Gruesome reports in the Turkish media had previously alleged that Khashoggi, a 59-year-old Washington Post contributor critical of the powerful Saudi crown prince, had been killed and cut into pieces by a team sent from Riyadh to silence him.
His body has not been found.
Turkish President Recep Tayyip Erdogan has urged the Saudi regime to reveal the location of Khashoggi's body and who ordered the hit.
Erdogan has also called on Riyadh reveal the identity of local "co-conspirators" that media reports claimed had disposed of Khashoggi's body.
Khashoggi, a former royal family insider turned critic of the Saudi crown prince, disappeared after he entered the consulate on October 2 to collect a document for his upcoming marriage.
Following a global outrage, the Saudi government in a statement acknowledged that Khashoggi was killed in a fistfight inside the consulate and noted that an interrogation went wrong.
The incident has severely dented the international reputation of the Crown Prince, Mohammed bin Salman.