At 73, she wrote a book and presented it to her husband on his 80th birthday.
Life has come full circle for Leila Seth, India's first woman chief justice of a high court and mother of 'A Suitable Boy' Vikram, peace activist and Buddhist teacher Shantum and art director Aradhna.
Her story is of immense courage. Leila's father passed away early and she spent most of her life struggling with her fate -- as a homeless child, as a housewife aspiring to study law, and finally a woman in a male-dominated profession.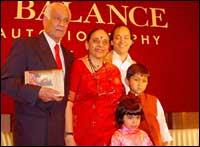 On Sunday evening her story was unveiled at the Maurya Sheraton Hotel in New Delhi. The capital's who's who was in attendance at the release of her autobiography On Balance.
The joy was double, as it was also the birthday of her husband Prem, whom she calls Premo. The family members had flown in from the United States, Vietnam, Australia and Pune to celebrate the events.
Prem stood smiling at a corner as people made a beeline to congratulate Leila for the book.
"The book is a result of an accident," said Leila, who wanted to be a Montessori teacher.
One evening in August 2002, cartoonist R K Laxman's book Common Man was released at the Taj Mahal Hotel in Delhi. Leila was in the serpentine queue to take Laxman's autograph.
She slipped and fractured her ankle.
"I was contemplating to sue someone. But whom should I sue? Laxman or David (Davidar, then CEO of Penguin Books India) or the Taj Mahal Hotel?" she said with a smile. "Looking at the slow pace of judiciary, I thought it would take years to get justice. So I kept quite like Laxman's common man."
At the same time she was about to complete her term as a member of the 15th Law Commission and people were pursuing her to write a book.
She told her little granddaughter Nandni that she would write a book on her life. Her eldest son Vikram was there to edit the book.
While releasing the book, both Leila and Vikram read passages from On Balance.
"People asked me why I started practising (law) being a woman and that too in a place like Bihar. How I made a space for myself in a male-dominated profession and how I raised such wonderful kids," said Leila.
"All these answers are in the book."
After returning from the UK, Leila started practising law in Patna in 1959 and later shifted to Kolkata where her husband worked.
During her stay in London with her husband, she opted to study law because it was the only course where attendance was not strict. Being a housewife, she had to take care of children.
But she was best in whatever she did. She was the first woman to top the Bar examinations in London.
In her book, she narrates how people passed comments on her when she drove a car wearing sleeveless blouse and how a woman lawyer was not taken seriously. "That was Kolkata in 1960s," she said.
"The book is about her work and her family," said Vikram. "Being a son it was difficult to edit the book. Because at my suggestions, she used to warn me: darling, I am your mother."
Leila is satisfied with her life and proud of her children. "I love to be called as my children's mother. There is nothing more than this for a mother."
She had a message for today's young women: "Do not think that you cannot be a professional because you are a housewife or you cannot be a housewife because you are a professional."