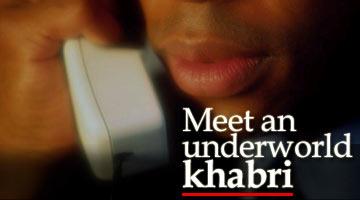 If you call Abdul Jaffer on his mobile phone and ask him where he is, he will lie.
He will lie even if one of his closest friends were to call and put the question to him.
He will lie even if it is his mother on the line.
It is too risky for Abdul to let people know where he is.
He could get killed.
Abdul Jaffer, not his real name, of course, is a police informer -- khabri in Mumbai's underworld lingo -- and knows quite well the perils of revealing one's location on the phone.

He has tried the trick on several criminals. He, or one of his associates, would call a criminal and put that innocent question to the hood.
"Kidhar ho bhai, aaj kal dikhai nahi dete?"
If the quarry fell for the bait and revealed his location, in minutes a police team would swoop down on him and another encounter would be reported in the next morning's newspapers.
For the 10 years or so that Abdul has been a khabri, he has made any number of enemies in the underworld. Some in the police department too.
Though anybody harming Abdul would invite the wrath of powerful police officers whom he has been feeding information for years, there are some enemies who may take the risk.
Abdul stays alone in a small apartment in Andheri, northwest Mumbai. He would not reveal the address.
His mother stays with his elder brother, who runs a garage. They don't know about Abdul's dealings with the police. Or so he claims. Both often worry about Abdul lacking any direction in life.
Off and on Abdul helps his brother at the garage, but that's really no help. Abdul finds it below his dignity to dirty his hands with grease and machine oil.

He loves the power that accrues from the job of a khabri. He says nobody can touch him. A few who dared, were tought a lesson by his friends in the police force.
He once had a constable beaten up up by his seniors for misbehaving with him.
I met him on an unusually cold evening at a police station in central Mumbai.
The meeting had taken three months to fix. On three occasions he called off meetings at the very last minute.
A police officer, who had helped me establish contact with the khabri, told me Abdul was suspicious of my motives. The months I had spent chasing him, it turnd out, he was carrying out checks on me.

Abdul was late again that evening by over an hour and a half. I had begun to wonder if he would ditch me again. It was getting dark.
Then he walked in -- cotton shirt, faded blue jeans and sneakers.  He appeared to be around 25, may be younger; dark and slim.
There was nothing in Abdul's appearance to tell one about the dangers he lived with, or the pleasures he indulged in. In the course of the conversation that followed, he would tell me he had four 'girl friends.'
He was late because, he said, he was working on a gun-runner. He told the police officer who had helped arrange the meeting, he was quite close to delivering the guy to him.
Abdul had posed as a gangster and sought to buy a gun from the man. The day the man promises to deliver the firearm, Abdul would alert the cops.
Doesn't it scare you, these are dangerous people, I asked Abdul. He said he enjoyed getting criminals killed. Then, a little philosophically, he said a gangster killed is so many innocent lives saved.
On a couple of occasions, he claimed, he pulled the trigger himself.
"They let me do it sometimes. Firing a gun feels so good. There is nothing more powerful," he said.
Abdul's answer was uncomplicated when I asked him if he would do the job if it didn't pay so well. "Phukat koi kaam karta hein kya yahan (Does anybody work for free here)?"

Abdul said he made good money. All he had to do was call his friends in the police force and he gets the money.
In fact, he claimed, if he wanted he could have money delivered to him anywhere in the city at midnight.
Not all khabris do so well.
Most get paid peanuts for the information they provide. Getting beaten up by the police for providing wrong information is common. And so is getting killed by wronged criminals.
But Abdul has made it big in the business. He has to his credit some big hits. He now runs his own group of informers.
His moment under the sun came when the Mumbai police were looking for Suresh Manchekar.

Manchekar's gang had spread terror in Thane, Kalyan, Dombivali, Ulhasnagar and Navi Mumbai, near Mumbai, in the 1990s.

After some of his henchmen were killed and his mother, who used to help him run the gang, was convicted to life imprisonment, the Manchekar gang disintegrated.
Manchekar was on the run.
In early 2003, Abdul traced Manchekar's movements. He passed the information to the police and a special operation was launched.
Abdul worked closely with the officers on the mission.
Manchekar's trail took the team to Goa and Bangalore. At both places Manchekar sniffed danger and escaped. Finally, the police cornered him in Kolhapur on the southern tip of Maharashtra.
The policemen were all in plain clothes. They spotted Manchekar in a crowded market after a tiring watch around the hotel he was staying in.

But there were doubts. Was he really Manchekar?
The man in the crowded market was clean shaven. Manchekar used to sport a moustache. Policemen familiar with the crimescape of Thane and Navi Mumbai were seeing the gangster after five or six years. Nobody was sure.
They then made a call to Abdul in Mumbai. Abdul said he will get back to them in a few minutes. He called in less than five minutes and said if the man under observation is wearing blue bathroom slippers, he is Manchekar. There was no doubt then.
It was their man -- the harmless looking man in the crowded market was the gangster the Mumbai police had been looking for years. He was wearing blue bathroom slippers.
Manchekar was killed, officially, on August 15, 2003.
There were allegations that he was arrested somewhere else, tortured and killed in Kolhapur.
But Abdul had arrived.
Today, he moves around in a Maruti Zen. He has many -- some say, over 100 -- people working for him. All of them may not know they are part of a khabri network, but they know Abdul is a powerful man.

Most of Abdul's associates are petty criminals.
Abdul said every time these guys went to jail, they came out with valuable information and contacts.
"Jails are fertile grounds for khabris. The inmates do not have much to do, so they yap," he added.
He keeps in touch with his associates on mobile phones. "I take good care of my people," he said.
Abdul also leads a rather colourful life, if you take the fear of death out. He frequents Mumbai's infamous dance bars almost every night. He claims he is going steady with four girls and has had no time to think of marriage.
He also claimed to know a few film stars, who, he said, came to him for drugs.
"One day I would like to make a film on underworld informants," he said as we parted company that chilly evening.
The police officer with us smiled. It was a wry smile, the kind that really says nothing, but still hides a lot.