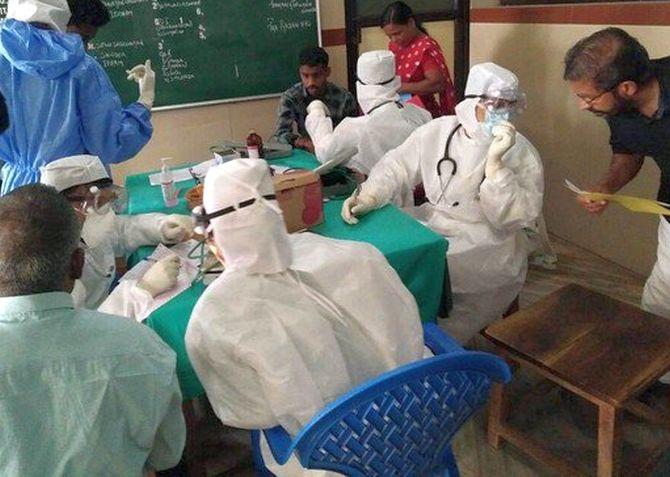 The Nipah virus has so far claimed 10 lives in Kozhikode and Malappuram districts in north Kerala while the deaths of two others, who are suspected to have contracted it, has not been confirmed to be due to the virus, health department sources said.
The condition of Moosa, whose two sons had died earlier, is very critical and he was on ventilator support, while another person, undergoing treatment for nipha, was responding to treatment as of now, the sources told PTI.
A total of 116 persons, who had come in contact with some of the infected persons, have been put under quarantine-- 94 in their homes and 22 in various hospitals, the sources said.
A 21-year-old student hailing from Malappuram, who had gone to his hometown Kozhikode recently, is under observation at Thiruvananthapuram Medical college hospital.
One person is under observation in Waynad.
Kerala Health minister K K Shylaja had told reporters earlier in the day that 10 deaths were due to nipha virus.
The World Health Organisation has been informed about the outbreak of the virus in Kerala, she said.
Union Health Minister J P Nadda said the Centre was committed to extend all support to the state to tackle the problem.
Two persons who had tested positive had died on Tuesday. 28-year-old nurse Lini, who passed away on Monday, had also contracted the virus, the minister added.
Of 18 samples sent for testing, 12 tested positive for the virus, of which 10 people died, she said.
Seven deaths were reported from Kozhikode and three from Malappuram districts.
Shylaja said the Union Health minister, who is in Geneva, had called her and enquired about the situation in the state and promised all help from the central government.
An expert team from National Centre for Disease Control, including its director, Dr Sujeet Kumar Singh and Head of Epidemiology, Dr S K Jain, are already in Kerala.
A high-level team from All India Insitute of Medical Sciences, Delhi, visited Kozhikode Medical college on Tuesday and gave doctors a protocol to be followed, the minister said.
Surveillance has been increased in all districts, she added.