"May God bless them all," says Maria Francis after fumbling for words to express her gratitude for the help she got at a relief camp in Kochi for people displaced by Kerala's worst floods in a century.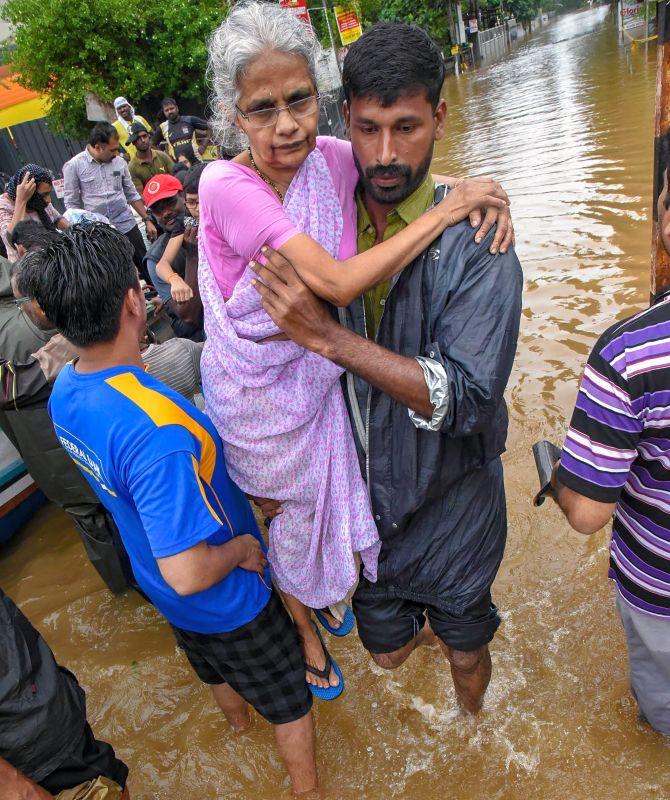 Francis is one of the 256 inmates of the camp at the government school at Panampilly Nagar where she has been staying for the last last four days.
"We are concerned only about one thing -- getting back to our normal daily lives, wrecked by the unprecedented monsoon rains," she said.
Francis, in her late 40s, recalled the anxious moments when flood water entered her home near Chittoor and she was evacuated by boat with some others to a shelter amid floating debris.
However, the rising water forced authorities to shift them to the shelter where they are now housed, she said.
"We were shifted after water entered my home and those of others. There are people from various parts of Kochi suburbs in the camp. Here we get everything -- food, water, clothes and proper medical care. Those who run the camp ensure that we get everything.
"They are very caring. I don't have words to explain this....We will never forget them," she said in a choked voice.
Another displaced woman concurred, but said rebuilding their lives was a big worry.
"We are haunted by a big worry amid this comfort...we have lost everything. We are poor. We will need adequate assistance to rebuild our lives," she said.
The situation is not similar in over 5,600 relief camps across the state, where over 7.24 lakh displaced people have been sheltered.
While some are being run smoothly, others are yet to streamline operations, particularly in remote areas, say officials.
Chicken pox was reported from a camp in Kochi, prompting the health department to quickly open an isolation ward at the Government Medical College in Ernakulam to deal with the situation.
Authorities are struggling to provide adequate quantity of disinfectants like bleaching powder at camps and flooded homes in Ernakulam district where the water has started receding.
"We need cleaning material and disinfectants like bleaching powder in bulk," an official said.
While aid pours in at various relief camps close to cities, those operating in remote areas are reportedly facing difficulty in getting essential supplies.