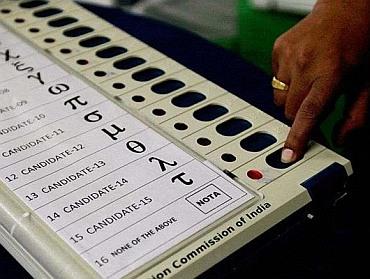 The Kerala assembly elections will be held on May 16 2016. In the upcoming Kerala election, the United Democratic Front, the Left Democratic Front and the National Democratic Alliance are the major parties and are being considered as the major players.

UDF is the coalition of Indian National Congress, Muslim League Kerala State Committee, Kerala Congress-Mani, Janata Dal-United, Revolutionary Socialist Party, Kerala Congress-Jacob and Socialist Janta-Democratic.
LDF is a coalition of Communist Party of India-Marxist, Communist Party of India, Janata Dal-Secular, Nationalist Congress Party, Indian National League, Kerala Congress-Anti-merger Group, Kerala Congress-B and Communist Marxist Party Kerala State Committee.
NDA is the coalition of the Bharatiya Janata Party, Janadhipathya Samrakshana Samithi and Lok Jan Shakti Party.
Others represent the parties which have very less percentage of vote share in Kerala 2011 assembly election.
Rediff Labs analysed the past performance of the parties to develop this Sentiment Meter for the 2016 Kerala election. A mathematical model is used to calculate how seats distribution is altered as sentiment/percentage of votes towards the contesting political parties changes.
Based on the change, each constituency is marked with the winning party (UDF/LDF/ NDA/Others/Swing).
Move the pointer on the Sentiment Meter (depending on who you think will get more votes) towards the political parties to see how the outcome is likely to change depending on public sentiment.

For more data driven journalism, check out Rediff Labs.