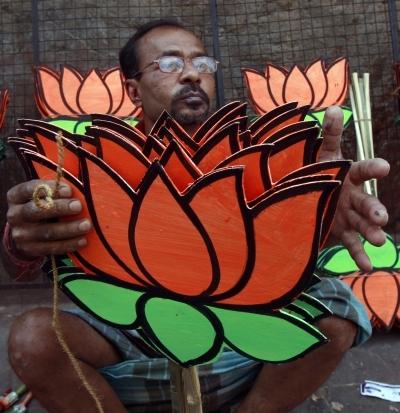 Hoping to make its presence felt in the hitherto bipolar political scenario in Kerala, the Bharatiya Janata Party on Wednesday sewed up an alliance with Bharat Dharama Jana Sena, the new party formed by Sree Narayana Dharma Paripalana Yogam, a powerful organisation of the backward Ezhava community.
The tie-up was announced by the state leaders of BJP and Bharath Dharma Jana Sena at a joint press conference in Thiruvananthapuram.
"Both parties agreed to face the coming polls together," BJP State President Kummanom Rajasekharan and BDJS State President Thushar Vellappally said.
Rajasekaran claimed that the NDA has become a force in Kerala and that talks on seat sharing and a common programme for the National Democratic Alliance will be carried out in the coming days.
"We expect to complete the seat sharing and finalisation of list of candidates in the next 10 days," he said.
Only after completion of talks would it be clear how many seats out of 140 assembly segments would BJP contest, he said.
Claiming that people of Kerala are fed up with successive Congress led United Democratic Front and the Communist Party of India-Marxist headed Left Democratic Front regimes, he said the NDA has emerged as the political alternative to both these Fronts.
NDA would be further expanded in Kerala, he said, adding that talks are in progress with some more political parties.
Thushar Vellappally, son of Vellappaly Natesan, General Secretary of SNDP, the strong-man behind BDJS, said there was no confusion in both parties coming together and "we are with the party that stands for social justice to all".
Thushar said he would not contest the polls.
Rajasekharan claimed that the BJP's vote share in Kerala had increased from six per cent a few years ago to 15 per cent in the last civic polls.
"Definitely an attempt will be made by UDF and LDF through a secret understanding to thwart BJP's chance to open an account in the state in the assembly," he said to a question.
Taking a dig at the Congress and the CPI-M, he said they already have a tie up in West Bengal and wondered what prevented them from going together in Kerala.
Rajasekharan alleged that both Fronts were actually cheating the people with their politics of "fixing". "People are dissatisfied with their rule and want a change", he added.
He also rejected reports that the BDJS had bypassed state BJP leaders and directly held talks with the national leadership on a tie-up.
"What is wrong in BDJS Chief Natesan meeting BJP National President Amit Shah?", he asked referring to the recent meeting between the two leaders on formation of the NDA in Kerala.
Rajasekharan said noted film star Suresh Gopi has said he is not interested in contesting the polls, but would be a star campaigner for the NDA.
On the statement of former BJP leader P P Mukundan that he wants to return to the party, Rajasekharan said "the party welcomes all those who wish to come back."