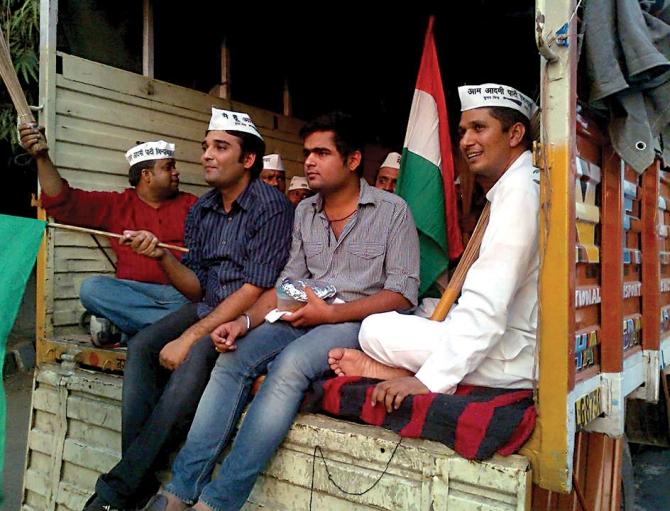 From 26-year-old Rakhi Birla to 41-year-old Manish Sisodia, the soon-to-be Delhi Cabinet is not just going to be the youngest ever but also probably the first in which all members, including the chief minister, are debutant members of Legislative Assembly.
At an age when most youngsters struggle to find their feet in their career, Birla will not just be the youngest minister in Kejriwal's cabinet, but also its only woman face.
Birla had emerged as a giant killer after thumping four-time MLA and PWD Minister Raj Kumar Chauhan in the Sheila Dikshit government in Mangolpuri by around 10,500 votes.
Before joining the AAP, Birla had worked with a private news channel. She had also been working in collaboration with social organisations for the causes of Valmiki community. Birla hails from Valmiki community and her father was associated with Congress for a long time but quit the party in 2011 during the Janlokpal movement.
Manish Sisodia, a trusted aide of Kejriwal, came to prominence during Anna Hazare's movement for Janlokpal Bill in 2011. The 41-year-old journalist turned-activist-turned-politician defeated the Bharatiya Janata Party's Nakul Bhardwaj by over 11,000 votes from Patparganj constituency in East Delhi.
Arvind Kejriwal on Tuesday sent the list of the six MLAs to LG Najeeb Jung recommending their induction in his cabinet. Another face in Kejriwal's team is Saurabh Bhardwaj, anengineering graduate who had also studied law.
The 34-year-old defeated Ajay Kumar Malhotra, son of veteran BJP leader V K Malhotra, by a margin of around 13,000 votes from Greater Kailash constituency.
Kejriwal, who is a product of Indian Institute of Technology-Kharagpur, has another IITian in his cabinet in Somnath Bharti who is an MLA from Malviya Nagar. He holds a Master's degree from IIT, Delhi, and a degree in law. The 39-year-old defeated BJP's Arti Mehra and another Delhi government minister Kiran Walia.
MLA from Shakur Basti (North) Satyendra Jain, who will also be inducted as a minister, is an architect by profession. Satyendra used to work in CPWD but fed up with the level of corruption in the department, he quit his job and started providing architecture consultancy.
He actively joined during the Janlokpal movement and then joined the AAP when the political party came into being. Girish Soni, an MLA from Madipur, had participated in
Bijli-Pani agitation of the Aam Aadmi Party and motivated people to join the agitation. He was associated with Bharat Naujawan Sabha in 1980. He was the general secretary of the party in Madipur.