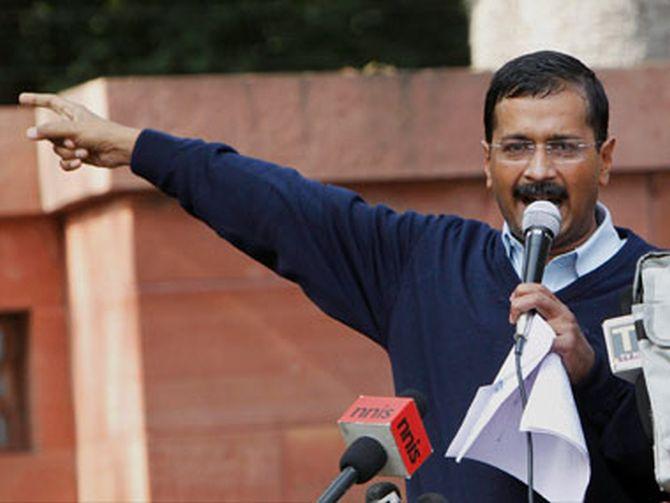 Police has denied permission for a public gathering to be addressed by Delhi Chief Minister Arvind Kejriwal at Sindkhed Raja in Maharashtra's Buldhana on January 12, citing 'difficulty in crowd management', a senior police official said on Saturday.
Kejriwal was slated to address a public gathering during the 'Jijau Janmotsav Sohla' to be held at Sindkhed Raja in Buldhana district of Vidarbha.
"Earlier, Kejriwal was to have a 'darshan' of Jijamata on January 12. However, a public gathering to be addressed by him was scheduled at a particular place in Sindkhed Raja and the permission to hold it was rejected by the police," Superintendent of Police Sushil Kumar Meena told PTI.
"The police declined permission for the public gathering citing difficulty in crowd management," he said.
Jijabai or Jijau is the mother of 17th century Maratha warrior king Chhatrapati Shivaji and a function to mark her birth anniversary is held every year at Sidkhed Raja.
The event is organised every year on January 11 and 12 and lakhs of people throng to Sidhkhed Raja for a 'darshan' of Jijau.
Four to five lakh people are expected at Sidkhed Raja this year, the police official said.
Meena, however, said Kejriwal is permitted to take 'darshan' of Jijabai.
The public address of Kejriwal was organised by 'Samvidhan Morcha'.
"We had requested the organisers of Kejiwal's event to hold the programme away from the main venue in Sindhkhed Raja tehsil as the spot decided by them would have created problems for crowd management at the main venue (of 'Jijau Janmotsav Sohla')," the police official noted.