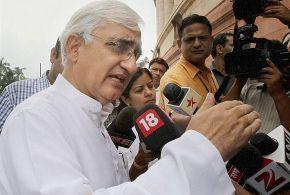 Just keeping our fingers crossed, External Affairs Minister Salman Khurshid on Tuesday said about Sarbajit Singh, who is battling for life in a Lahore hospital after a brutal assault last week in a Pakistani jail.
He expressed hope that Sarabjit, who is in a special intensive care unit of Lahore's JinnahHospital, would be able to recover.
"The morning bulletin was not very encouraging... the parameters were falling. Just keeping our fingers crossed. Frankly hoping for the best to happen.... I hope that he would be able to recover," he told reporters outside Parliament House.
Doctors treating the death row convict has said that Sarabjit's condition continues to be serious but has not been declared brain dead.
Doctors had earlier said his chances of survival were "slim" due to extensive head injuries.
Sarabjit, 49, sustained several injuries, including a skull fracture, when six prisoners attacked him in Kot Lakhpat Jail on Friday. He was hit on the head with bricks and his neck and torso cut with sharp weapons.
He was convicted of alleged involvement in a string of bomb attacks in Punjab province that killed 14 people in 1990. His mercy petitions were rejected by the courts and former President Pervez Musharraf.
The outgoing Pakistan People's Party-led government put off Sarabjit's execution for an indefinite period in 2008.
Sarabjit's family says he is a victim of mistaken identity and had inadvertently strayed across the border in an inebriated state.