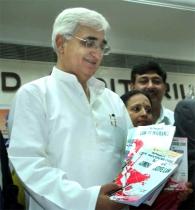 External Affairs Minister Salman Khurshid on Tuesday said that as of now, there were no plans to cancel his visit to Beijing, in the wake of the Chinese incursion in Ladakh.
He appeared to keep his options open, saying, "One week is a long time in politics".
"Can I cancel my visit? The government has to decide. There is no such decision and there is no reason we should do that but you know one week is a long time in politics, so let us move forward," he told reporters outside Parliament.
Khurshid is scheduled to travel to Beijing on May 9 in connection with preparations for Chinese Premier Li Keqiang's visit to India in May.
The Samajwadi Party had on Monday objected to the minister's visit to China -- with party leader and former defence minister Mulayam Singh Yadav accusing the government of acting in a "cowardly" manner on the Chinese incursion issue.
Khurshid expressed confidence that the stand-off between the two countries will be resolved amicably through talks.
"I would like to say once again that let talks take place. We have a system which we have developed over the years and have strengthened it and whenever any such development takes place, it is solved within that system. I am confident that a solution will emerge out of this," he said.