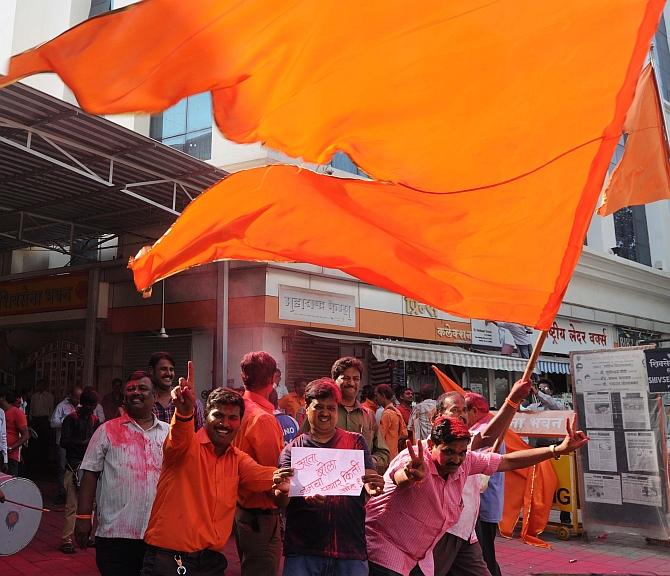 Ending weeks of acrimonious spats and mudslinging, the Bharatiya Janata Party and its ruling ally Shiv Sena have finally worked out the modalities for running the Kalyan Dombivali Municipal Corporation.
According to the agreement between both parties, Sena will hold the post of mayor for four years and the BJP for one year.
The deputy mayor's post will held by the BJP for four years, followed by the Sena for one year.
"There was no hard bargaining involved in our discussions. It got over in five minutes flat, because both parties knew that grass-root workers want us to rule the KDMC together," senior BJP leader and Maharashtra Finance minister Sudhir Mungantiwar, who was involved in the negotiation process, told PTI.
"According to the pact, we will get the deputy mayor's post for 4 years and Mayor for one year. Similarly, Sena will have its mayor for 4 years and deputy mayor for one year. As far as the standing committee is concerned, we have decided to divide it among ourselves for two years each. For the remaining one year, Uddhav ji (Uddhav Thackeray) and the chief minister will decide what has to be done," he said.
The decision was taken after a round of talks held between Mungantiwar and Sena leader and state PWD Minister Eknath Shinde on Saturday.
"We have got an opportunity to serve the people. If we don't do this and keep talking about power all the time, people are bound to get frustrated. We cannot let this happen," he said.
Although the Sena had emerged as the single largest party bagging 52 seats in the 122-member the KDMC, it fell short of a majority. The BJP came second winning 42 seats and improved its previous tally of nine.
With the decision to share power, the combined strength of the Sena and the BJP would be 94.
The Congress won four, while the Nationalist Congress Party won two seats in the polls that took place last Sunday. The Raj-Thackeray-led Maharashtra Navnirman Sena managed to get nine seats, while the Bahujan Samaj Party and the Majlis-e-Ittehadul Muslimeen won one seat each. Nine independent candidates also emerged as winners in the civic body.